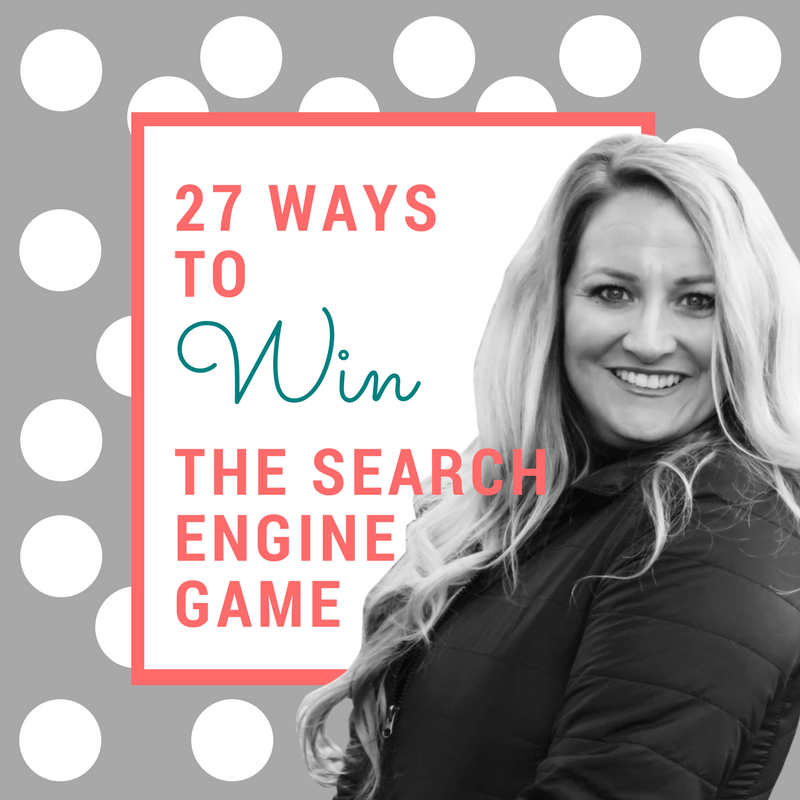 So, it wasn't even 8 weeks ago that I excitedly announced that I held not one — but TWO– spots on page ONE when you searched for "women entrepreneurs" on google.
Today, I guess the algorithms changed or the search engine gods got mad at me or something because I'm nowhere to be found, for the exact same search term. Am I sweating it?
Nope.
Because I found a way to win the search engine game a long time ago.
HOW DID I DO THIS EXACTLY?
I decided not to DEPEND on the search engine game at all.
It was so complicated… and I couldn't make sense of it, so I got frustrated and just said "screw it."
And I decided to CIRCUMVENT the search engines altogether.
WHAT DOES THIS MEAN EXACTLY?
Well, I decided that I wouldn't invest MUCH in a system that was constantly changing and that I didn't understand. Instead, I decided I'd go DIRECT.
INSTEAD of trying to please the search engines… so they'd MAYBE grace me with a page one spot… I'd go DIRECTLY to the people, the groups, the journalists whose attention I wanted and EARN that attention…
I'd show up,
unable to be ignored.
Via snail mail in some cases.
Via a phone call.
An interview request.
A hand-written greeting card.
I'd show up and just knock on their door.
I'd introduce myself (and Women Who WOW) to influencers who could (and SHOULD) be talking about the women in our tribe and just let them get to know us.
In this way, I show up in a competitive vacuum…
with a clear purpose…
in a closed system…
and in a way that grows relationships, and not just views.
The truth is, I was PUMPED to find myself on page one of Google for such a WILDLY POPULAR (and location-generic) search term like "women entrepreneurs." I HAD given some attention to this goal in the recent months…. mainly simply adding "women entrepreneurs" to a lot of my blog post titles. And, you know, it worked.
For a time.
But for the six weeks or so that I graced page one of the google… do you know how much my income went up as a result? NOT MUCH!!!
In fact, nearly ALL of my income STILL came from people/groups/influencers who didn't FIND me on google, but who I deliberately made AWARE of me through other means.
Bottom line, friend…
WHENEVER possible, take matters into your own hands.
Don't leave yourself VULNERABLE to Yelp and their fake review sites or to Google and their constantly changing "algorithms."
Instead, create a HABIT of doing something EACH and EVERY day to introduce yourself to people who SHOULD know about you… to people whose attention you SHOULD have. Don't sit back and wait like some "good girl."
Go out there and DEMAND the attention to deserve.
Women Who WOW members will come together tomorrow for our "VMM" — or Virtual Mastermind. Our topic: 27 Ways to Circumvent the Search Engines And WIN Way More Than Page One Position.
Yes, I'll give 27 actions I take REGULARLY to keep my brand (and my bank account) growing. But, the CORE of this is about your willingness to WAIT… or not.
The CORE of how I developed these 27 action items is based on a couple "mental technologies" I call IMPATIENCE and DEFIANCE.
If you ARE a woman who wows, invite your friends to take a look at membership…. If you are NOT one of us, PM me for details or go and check us out over here: womenwhowow.com.
Don't forget to check out my Facebook Page and stay updated with all my content.