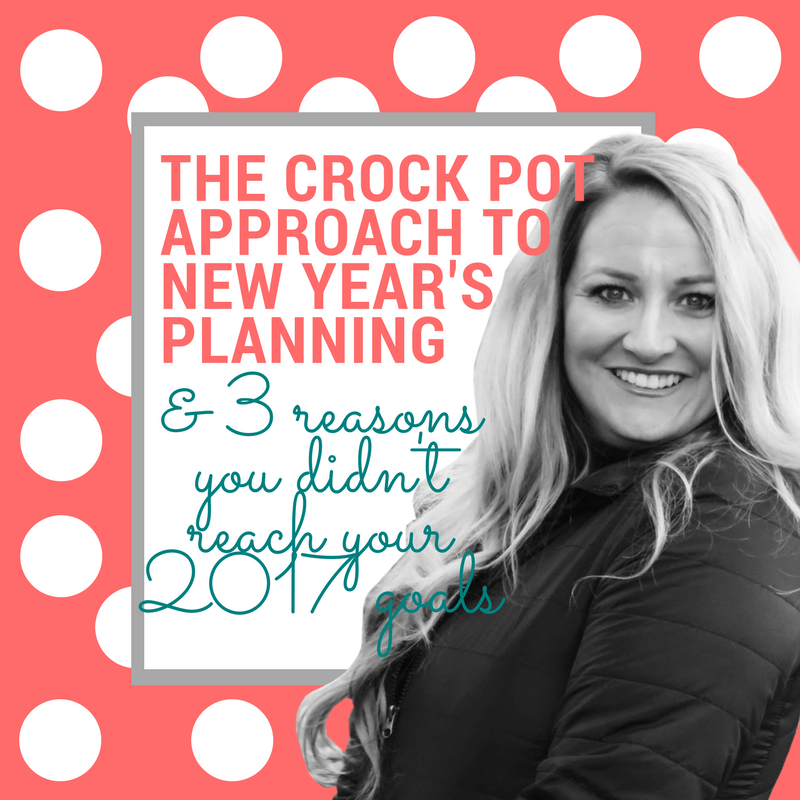 This article will reveal my crock pot approach to New Year's Planning for women entrepreneurs… and also,  3 REASONS YOUR PLANNING FOR 2017 DIDN'T WORK.)
P.S. it's NOT because your 2017 goals were too big.
Few things excite me like seeing a team — especially the "underdogs" — come from behind and eek out an unexpected win! Maybe that's because I've always been a bit of an underdog myself.
Underfunded.
Undertrained.
Under-famed.
Under-fancy.
Despite all the "odds,"
despite living in a rural community,
despite being largely unwilling to travel — AT ALL…
I lead one of the most impressive alliances of women entrepreneurs on the planet. The culture of Women Who WOW is one of DO-ing and RESULTS. In fact, if you "whine more than you win," well… you just won't stick around very long.
Which is fine by us.
Still, I get a lot of questions about setting New Year's Goals, and I hear a lot about being "realistic" with our goals… You know, because "I've set big goals before and didn't achieve them."
BULL FECES, friend.
The reason you didn't reach your goals is DEFINITELY NOT because you set them too high! Don't EVER buy into the let's be realistic (i.e. let's play so small we never fail) trap!
The reason you didn't reach your goals in 2017 is because you:
Set them over the course of one or two days;
Didn't get hard core accountability to INSURE your commitment; and
The goals were never BAKED into who you are and how you spend your time.
I know — intimately — the pain (and shame) of setting New Year's goals, doing the vision board and sharing with EVERYONE WHO WOULD LISTEN… only to start really doubting myself by March.
Sometimes sooner.
I know the short (exhausting) bursts of effort that I've initiated in some effort to catch up or somehow prove to myself that I could do it.
And then the sting of defeat as I dumb my goals down to better match my reality, promising myself that I'd do better next year.
I know the AGONY of ending a year and knowing that I could have — and should have — achieved more.
I HOSTED and WENT TO planning events.
I did the work, a million different ways.
BUT the end result was pretty much always the same:
a somewhat better — warmed up, maybe — version of the previous year.
SOMETHING HAD TO CHANGE FOR ME.
I CREATED…
The CROCK POT Approach to New Year's Planning!
I now plan my goals entirely differently… in an effort to BAKE them into my reality.
Now, I take the "crock pot" approach to New Years Planning…
over 10 days gently allowing the goals to grow and shift…
and allowing myself to really absorb them…
before then planning EXACTLY how to meet (or, as is now often the case, EXCEED) them.
In this way, my planning isn't an escape or a retreat.. but an ADVANCE.
This Crock Pot method of New Year's Planning allows for the fullness of the goals themselves to come to fruition, to become part of my "NEW NORMAL" and to be looked at in various different lights.
ALL of this will be taught in my Plan,Promote, PUSH 2018 program…
But this is NOT about learning.
It's about DOING.
It's about bringing YOUR goals into FULL fruition.
It's about stepping into your FULL purpose,
and maybe even a new identity.
So, I've also built in some fun accountability.
And — let's be honest — some not so fun accountability.
I've built in PRIVATE time with me…
And some not-yet-disclosed secrets to insure that YOU come face to face with YOUR goals — all throughout 2018.
I don't want to do this without you.
I don't want you to go into another year the same way you've done in the past.
I want to walk with you,
shoulder to shoulder,
arm in arm.
Because 2018 CAN be your year.
So, let's make it happen. JOIN ME.