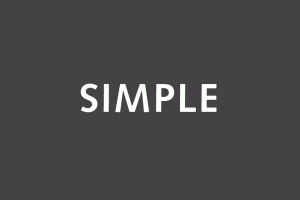 Recently, I've been reminded by so many of my clients (and prospective clients) how easy it is to overlook, discount or misjudge what is simple.  I can't tell you how disheartening this is for me.  Before I get into the 3 simple steps to what YOU want, a quick intro about what I've learned about simplicity:
1) Simple is deceptive. The most powerful changes are the most simple.  The most profitable changes you make in your business are simple.  The most impactful changes you make in your life are simple.
2) Any fool can make the simple complicated. And many do.   (lol) Consultants will wow you with charts and graphs and systems with some corny acronym… crazy hair,  glitzy events, and more. And they'll want you to believe that success is so complicated that you need them as a guide, revealing all of their "little known secrets" to you in bite-sized chunks.  And, let's face it.  This is an EASY thing for many of us to buy into, because if all of these secrets have truly been kept from us, well… our lack of success isn't our fault, right?
A quick hint for all of us, take note:
Whether you sell weight loss, better health, more money, stronger business,
better sex, a sexier marriage or fitness memberships,  
the "It's not your fault" approach is EXTREMELY seductive.  
MY goal with my clients and gym members is to make the complicated… SIMPLE.  (What is simple gets DONE.)
3) Simple does not mean easy. It usually doesn't.  But don't discount the simplest of strategies.  In today's culture, it takes COURAGE to be simple.  And your courage will always be rewarded.
Okay, so now on to the THREE SIMPLE STEPS you can take to Get What You Want.
What if you knew exactly what you wanted from your business, had identified the shortest route to get it, and knew what you had to DO to get there in the least amount of time possible?
Well, chances are you'd have what you wanted already, right?
Exactly.  Let's follow this model then.
Step One:  Write down exactly what you want from your business.  What dollar amount per month?  What lifestyle?  What hours?  What positioning?  What ego-based result?  Don't JUDGE your desires. Just write them down.  Write down the "lifestyle" stuff (like I want to bring my dogs to work, do work that surprises my friends, and allows me to travel once a month, for example) and — OF COURSE — write down the monetary stuff, too.  How much do you WANT to MAKE?  Leave NOTHING off the table.
Step Two:  Brainstorm.  What is the shortest route between where you are now and that visionary document you just created?  The shortest distance between two points.  So, for instance… let's say you have a product you want to launch, but you need a LARGE LIST in order to launch profitably.  So, all of your time is right now spent in getting "exposure" and growing your list, and you're not making a dime.  (Yuck.) Well, the SHORTER distance might be to find a joint venture partner with a large list, just as one example.  What IS the shortest distance between where you are now and where you want to be?
Step Three:  Isolate  the specific steps necessary to achieve what you identified in Step Two.  What specifically must you do to carve that "shortest path" to get where you want to go? Make a list, and schedule those to do Items.
Please don't be fooled by the simplicity of these three steps.   Take the time.   Give yourself some uninterrupted time to figure out YOUR BEST PATH forward.  Brainstorm.  Think creatively.  Challenge assumptions.  And then, of course… put it all into action.
Here's to YOUR wild, unreasonable success!
8 Responses to "3 SIMPLE STEPS to What You WANT"