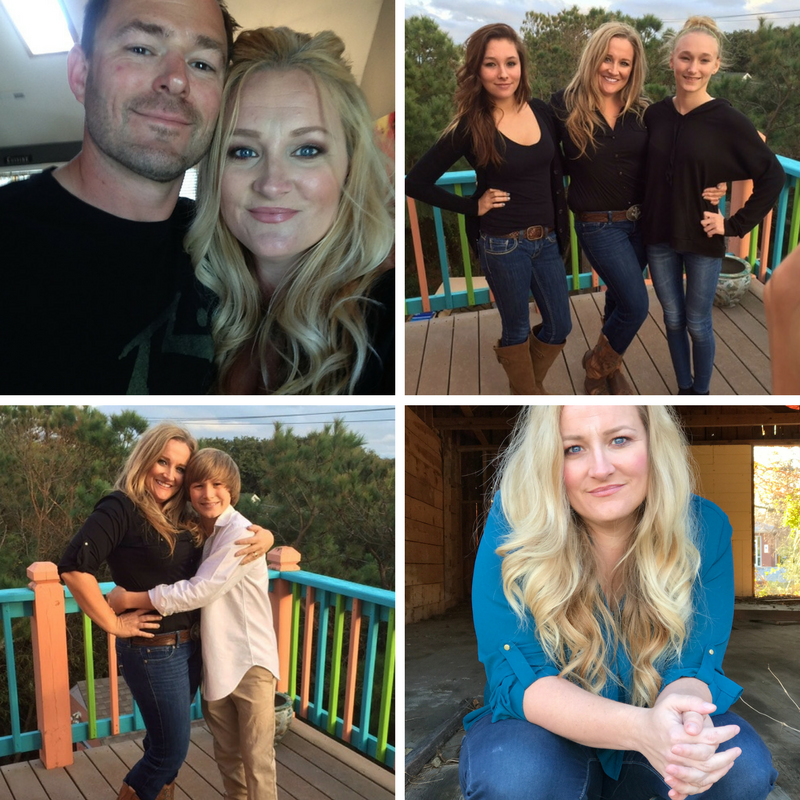 As I write this fun post, I'm staring down 40… and — truth be told — I'm pumped about it!  To celebrate reaching this huge milestone, I'm offering up 40 fun facts about me.  I'm wondering… for those of you who have been with me a while… how many are surprises?
My first name is Barbara, after my Mom's Mom.
I love those zit popping videos on youtube.  Like, really love them.  I know, gross…
My favorite "indulgences" include pure Bamboo sheets, pillows that are both memory foam and "cool" to the touch, Mont Blanc pens, natural bath bombs and the incredible soaking tub in my master bath.
My pet family  is now "down" to one cat (Boots) and one dog (Smallz.)
I live in a very small town and absolutely love it. We have all we need here… a Food Lion, a fabulous Mexican restaurant, an okay Sushi restaurant, a locally-owned wine store, amazing people and exquisite sunsets.
My Nespresso machine + milk frother is my new favorite kitchen appliance.
I don't like any appliances on my kitchen counters.
I am nearly immune to criticism.
I'm unwilling to go without my (at least daily) coffee with heavy whipping cream and pumpkin pie spice.
I drive maybe 4 times a week now and love it.
 I homeschooled my kids for several years, some of the best years of my life.
I (truly) grieve divorce and absolutely love marriage.
As a kid, one of the top reasons I looked forward to being married was being able to sleep next to someone.  To this day, it's one of my favorite parts of marriage…. just snuggling with my Mister.
My Dad took me out on dates as a teenager, to set the example for how I was to be treated by a man.
I was taught to expect a man to open the car door for me.  Once, a guy picked me up for a date, waltzed over to the driver's side of his car and motioned for me to get in.  I stood there. He said, "It's open."  I said, "I know."  lol… He eventually got it.  I didn't go out with him again.
I detest crowds, and much prefer solitude.
My favorite quote of all time is this, "It is easy in the world to live after the world's opinion. It is easy in solitude to live after your own. But great is he, who — in the midst of a crowd — keeps with perfect sweetness the independence of solitude." — RWE, of course.
I buy my mother-in-law the new Patricia Cornwell book every Christmas.  She buys me the same book.  It's a tradition.
My Mom is my best friend.
My Mister is my other best friend.
I have three other "besties:"  Courtney, who grew up in the country with me and we both loved it… Denise, who is my soulmate best friend…  and Laurie, who is the friend I talk to the most.  I cannot imagine life without them and need to be better about getting together with them more.
My favorite Aunt is Darlene.  If you read any texts between she and my kids, you'd assume my kids were living in utter poverty.  They complain to her that there's no food in the house.  She comes over with PILES of food (i.e. sugary snacks)  and a tray of chicken nuggets for them.  From Chick-Fil-A of course.  Life wouldn't be the same without her.
My Dad is my hero.  Hands down.  If your back is ever against a wall, you want this man at your side.
I cried nearly every day for the entire month of September 2016, grieving my oldest turning 18 on October 1st.
I'll never judge you for who you love, how you worship, or the color of your skin.  BUT, if I were to be totally honest, I (harshly) judge people who wake up late, who are super picky (and loud) with their food "rules," and who invite me to play games on Facebook. Please… just don't.
In high school, I  was a cheerleader, in theatre, and won Miss Junior Teen Richmond at 15.
My son has me wrapped around his finger…. always has.
I was the OPPOSITE of a Bridezilla when I got married.  My approach was this, "If at the end of the day, I'm Mrs. Pippin, it will have gone perfectly."  I was, and it did.
I am totally ashamed to admit it… but I am 100% hooked on the current season of The Bachelor.  Frankly, I've never been able to watch it before.  As the mother of 2 teenage girls, the idea of 25 women chasing after one man disgusts me.  But, OH…. this season somehow reeled me in.
When I heard that former President Obama referred to some Americans as "clinging to their Bibles and guns," I honestly didn't think to take it as an insult.  I cheerfully and proudly cling to both.
One of my absolute greatest joys is watching Shelbey play softball with the same girls she's played with since she was about 8 years old.  I anxiously look forward to it every year.
I've met and shaken the hand of only one President:  President Obama.  He and his wife were gracious and engaging and it was a huge honor.
My goals for 2017 are ginormous… and this wakes me up every morning with an excitement I can't adequately express.
I only drink water, wine, and coffee. Ever.
I make AMAZING "spa water," if I do say so myself, which I drink all day long.  Chunks of FRESH GINGER and tons of ice sets my water apart from all others. =)
My Mom tried to instill in me SOME sense of modesty.  It didn't take.
I find typical small talk absolutely painful to endure.  I'm still irritated about the 40-minute conversation I had to sit through 5 years ago while a group of housewives discussed a rug they DIDNT EVEN BUY.  40 minutes.  Seriously, I could have knit that same rug in less time…
My (current) favorite Bible verse is 2 Timothy 1:7, "For the spirit God gives us doesn't make us timid, but gives us power, love, and self-discipline." 
I have family in the White House, the Penthouse, AND the "big house."  We're diverse like that.
My favorite ice cream is Ben&Jerry's Half Baked and I melt it before eating it.