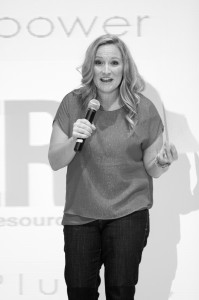 There's a lot of debate regarding NATURE vs. NUTURE in our world.  Which aspects of our "personality"  are inherent, unchangeable and permanent and / or which lifestyle "choices" are not choices at all, but birthrights, etc.?
I have no — zero —  desire to enter this debate with you now, except to give a quick snippet into my thoughts regarding how this Nature vs. Nurture debate factors into our success as business owners. 
Here are some things I hear every week:
But, I'm shy.
But, I'm just not good at Marketing.
But, I've just never been good at sales.
As if you are permanently… anything.  Listen, your personality is not a prison.  You are MORE than what you've given yourself credit for being or permission to be up until today… because you are a CREATOR.  You have the power to CREATE.  To BUILD. To CHANGE.  To DEVELOP. To CHANGE COURSE.
Oh man… I'm getting lost in this blogpost.   And I really don't want to lose you .  Please hang on a bit more.
Here's the deal.  I need to tell you  something.  Please do not think I'm being sarcastic or humble.  I'm being 100% honest.
I'm a closet loner, hermit, homebody.  And in a BIG way.  Always have been.  You COULD say that's how I was born.  I grew up climbing trees.  What would I do when I got up there?  Read Ralph Waldo Emerson essays, write poems, journal, be alone with my thoughts.  I turned my CLOSET into a reading den for myself. Just a little nook where I could close the door and be completely secluded. I'd go on long walks.  Disappear into the corn fields for hours and hours. With nothing but a couple snacks and a notebook.
Very few people really knew this about me. I think they knew there was a BIT about me that didn't quite "fit" with the fact that I was also active in my theater program or a cheerleader. =)   But they didn't know I was a closet hermit.
So, how'd I transform into a person interested in speaking and going BIG and marketing and selling myself? How'd I create success for myself in an OVER-saturated market like this one?
Well for one, I have many facets to "me."  Just like you have many facets to you.  And I'm constantly developing, growing, changing, evolving.  But here's the thing.  I also develop DELIBERATELY.  VERY deliberately.
Have you ever read Earl Nightingale's "The Strangest Secret?"  Or listened to it, rather?   In it, he says that we become what we think about MOST.  How true.  So, with that in mind, let's look at this supposed marketing or sales "gene," shall we?
It is true that I have the "mind" of a marketer.  The very deliberately developed mind of a marketer.  I'm amazing at marketing and sales because I THINK the way I THINK.  But it was not always this way.  I developed my "marketing and sales" savvy by following Nightingale's advice and thinking, studying, talking about, reading about, dreaming about, becoming fascinated with, and practicing DAILY this fine art of business marketing and sales. 
There was no shortcut.  I looked around at other businesses and SAW why they failed. They may have BLAMED their location or a lack of funding or the economy or a partnership failure, or a personality "defect," or, or, or…. BUT, what I SAW VERY CLEARLY was that they lacked an effective way to get new clients or customers consistently enough.
So, THAT is what I focused on.  That is what I pursued with a vengeance. Eventually, I thought differently than most of the businesses around me.  Eventually, I developed a "talent" for this stuff.  Soon enough, I developed a very passionate LOVE for it.
Originally, I only wanted to make money.  I was interested in the FEAST.  Eventually, though — I learned to love the HUNT — equally if not MORE than the feast.  I've never been FASCINATED with money…. but am immensely and intensely and passionately fascinated with the ways that people CREATE money for themselves.
But again, this was a developed talent.  (Daily practice and pursuit OFTEN show up disguised as a natural-born talent.)
So, that's my story and I'm sticking to it. ANY of us — ALL of us can have the mind of a marketer.  And it IS a worthy pursuit. But what about what we're born with?
Well, I don't know about any of that. I was born so long ago.  =) I don't REMEMBER what I had coming INTO this world, and all I'm 100% sure of is that all of us were born to THRIVE.  At whatever our chosen endeavor. That much, I know for sure.
So, what are you practicing today?  What are you deliberately developing in yourself?  Because there are NO prisons stronger than the limitations we create for ourselves.  
Here's to YOUR wild, UNREASONABLE success!
xoxo,
Michelle
3 Responses to "Are "Natural" Marketers BORN this Way?"