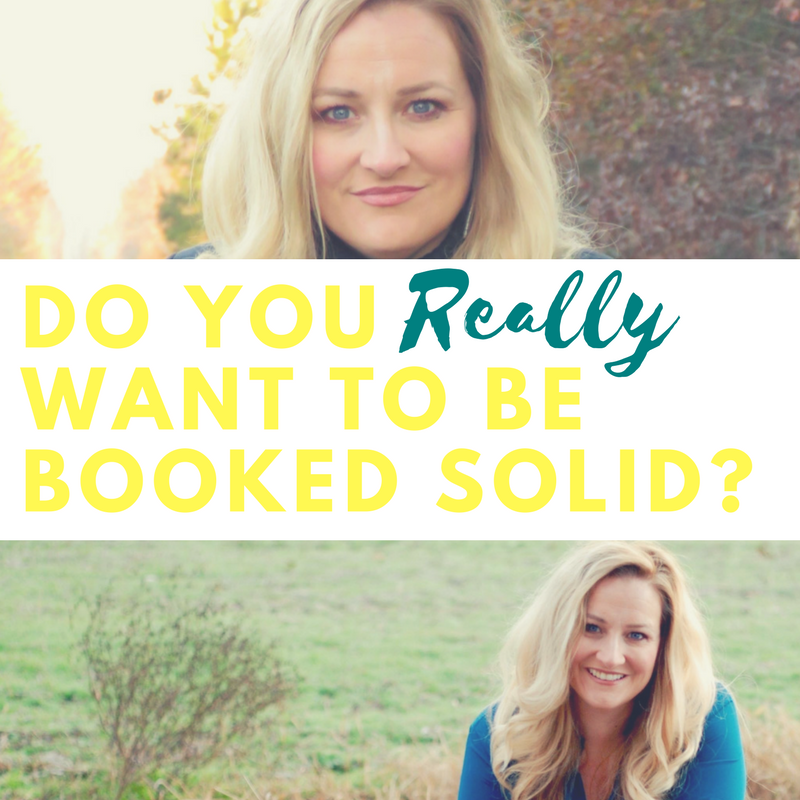 I just came across the book, Book Yourself Solid, and remember when it first came out. Module after module, chapter after chapter devoted to packing your schedule with paying clients.
OF COURSE, I bought the book.
Because at first, I was thinking, "I should have written this book!" lol…
and also to see what other information was out there….
and for the "Speaking to get clients" chapter, specifically.
But there was —almost instantly — just this truly negative, almost visceral feeling I had about the GOAL of the book ("Getting More Clients") that I couldn't shake.
Frankly, back then I didn't even realize what it was. I mean, how to get more, better, better paying, more aligned clients is what I taught. It's what I teach now.
But it's only PART of what I teach.
Looking back I realize that my visceral rejection of that book was because it reminded me of when I desperately needed clients. When that was my focus. When the bills would come in and I'd be hustling for a client, just so I could keep up.
Fast forward to today and it is so clear.
Most people seek clients when they need money. The clients are, essentially, a means to an end.  They see a client as a person holding a check. Chasing it, as if that check is the equivalent of oxygen to them.
Got.
To.
Have.
It.
But I ONLY "chase" clients when I'm inspired.
When I'm so in love with their vision.
When I (literally) can't wait to roll up my sleeves,  jump in with them… and start rowing.
I turn a lot of would-be clients away.
Not because they're not amazing…
and not because I wouldn't enjoy the work.
But because BOOKED SOLID is the very LAST thing I want to be.
Booked SOLID?
Day to day, hour to hour, chained to my desk and my phone?
Trading dollars for hours?
Scheduling and rescheduling?
OMG, NO.
I want to be FREE.
FREE to cherry pick who I spend my 1:1 time with.
FREE to grow the women who WOW empire…. where I get to walk arm in arm with hundreds of crazy driven women like me.
FREE to take care of myself the way I didn't used to think I had time or money for.
FREE to play fetch with my dog… EVERY morning.
FREE to enjoy my coffee, journal and Bible time… EVERY morning.
FREE to make impromptu calls to my members… because something caught my eye and i think they need a bit of encouragement… or because on my daily jog, I had an idea for them.
FREE to text my private clients, to lend support, look over copy, etc. without waiting for our next "appointment."
FREE to get my message into the world, to raise my own bar, to BETTER serve those I choose to work with, to NO LONGER be chained to preconceived limits about what's possible for me right now.
Book myself SOLID?
No thanks, Mr. Michael Port. While your book is (truly) brilliant for ANYONE who wants MORE clients… or a BOOKED SOLID schedule, it is definitely not for me.
Not then, and certainly not now.
I'm not interested in being booked solid. Instead, I'm committed to — SIMULTANEOUSLY — growing my income, impact, and influence.
Income without impact and influence doesn't interest me.
Nor does impact and influence without income.
I want it all.
Do you know the crazy-like-a-fox truth, though?
The exact steps I took to leap-frog past this whole idea of "booking myself solid" allowed me to create the EMPIRE I am running— and growing— today.
I show up.
I create content that aligns with one or more of the goals I've held for my business for more than a decade now: To empower, encourage and /or equip.
I make offers.
I welcome newcomers into the fold.
I invite women to stand up, stand out, and take action.
I stay in the conversation.
I do this on repeat.
Every single day.
Encourage, empower, equip.
Encourage, empower, equip.
Encourage, empower equip.
And I no longer have to worry about booking myself solid.
You can ABSOLUTELY do the same thing. Don't settle for "being your own boss" and being booked solid if what you REALLY want is to be in high demand, to create your own empire.. your own venture… your own tribe…
Don't do it… because — honest to God — you don't have to.
Instead, start here:   What is YOUR version of what I wrote above? What do you do EVERY DAY on repeat?
P.S. If YOU too are the kind of girl who wants it ALL… on YOUR terms… and you're willing to show up EVERY DAY and do the work… do yourself TWO favors. First, come introduce yourself to YOUR tribe — which is women who WOW, of course — and then, register for our 2-day event in Dallas, TX.