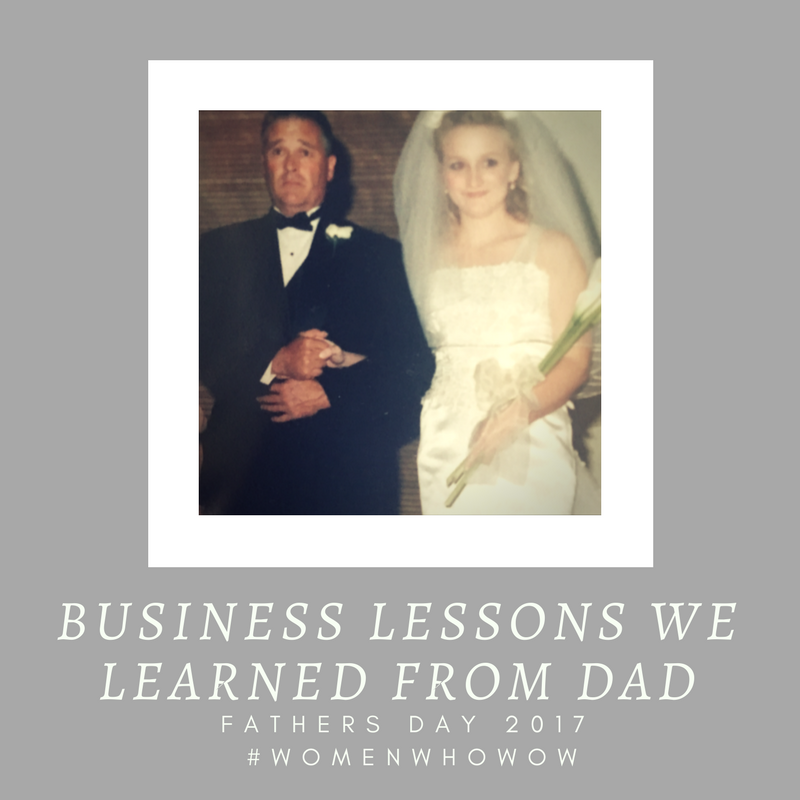 For Father's Day, I am so excited to share  what a handful of  our Women Who WOW sisters had to say about their own Dads, and the impact they had on their lives and business.  Of course, I've written many times about my Dad and his impact on me as a woman, as a person and as a business owner.  I grew up watching him ROCK a side hustle, while holding down a full time job and making time to date my Mom and be a very active father to my brother and I.   My rock solid sense-of- self is due to him (and my Mom, of course!)
My Dad is a very simple man.
And he is —  and always has been–  a very simple business owner.  Back then, he took "side jobs" in construction.  Now, he and my Mom run a multi-million dollar construction company on the OBX.   If I had to nail down the MOST IMPORTANT business lesson I learned from my Dad, it'd be this:
Make it about the money."
Let me explain.  My Dad was never "confused" about the payment he'd extract from a business transaction.  He did amazing work, and accepted cash as payment.  Easy Peasy.  He didn't look to his business (or, back then, to his side hustle) for a self-esteem boost.  He didn't need one.  He didn't need clients to stroke his ego.  His ego was fine.  He didn't use business as a social outlet or as a way to look important.  He approached business THE EXACT SAME WAY I DO TODAY… as a value exchange.   Simple. Direct.  Honorable.
You can learn more about my Dad in any one of these countless articles, but  before you go… take a look at some of our members and what they learned from their own Dads.
Never work for anyone else. – Shelley Smith of Premier Rapport and co-author of Brass Ovaries Own Yours.  
My father was a natural engineer even though he had just grade 6 education. My father taught me how to make do with what I had – he'd be considered the king of the modern day hack. – Debbie Adams of PeopleCan Training.
If something's not working, don't force it. Be easy about it. Take your time and you'll figure it out. – Wendy Reeves of Wendy Reeves, Business Coach and Mentor.
Excellence in everything! – Connie Hedrick, of the Real Estate Group.
Be generous. – Lorraine Ward-Walsh, of Good Life Kitchen.
Don't ever let someone tell you that you can't do something. You can do anything you put your mind to. – Stacey Grant, of New York Life (Oklahoma)
Show up every day. No excuses. My family ran a lumber and concrete business for 4 generations. My dad worked 6 days a week at his yard. He was successful because his customers knew he was there for them every single day. – Beth Anderson of Style By Beth.
Don't force anything. He was a lifelong worldwide traveler. When traveling, seek out women entrepreneurs, and spread some money there. He knew that women frequently had a harder time than men in most cultures! – Melanie McGhee, of AAIT Solutions.
My step/godfather taught me, life isn't fair, so don't get hung up when things don't go your way; keep moving forward and do what YOU can do to get what you want. – Lisa Smith, of The Coaching Center for MindTraining and Success. 
My dad taught me resiliency skills. – Denise Hughes, of DeniseHughes.org.
My dad taught us to show respect and kindness to everyone and to be grateful for the opportunities we have in life. Words to live by in business too. – Donna Galatas, of The Galatas Group.
Kindness always! – Debbie Mzarek, of The Sales Company.
Always keep your word! – Autumn Leopold of Rodan & Fields and Women's Empowerment Coach.