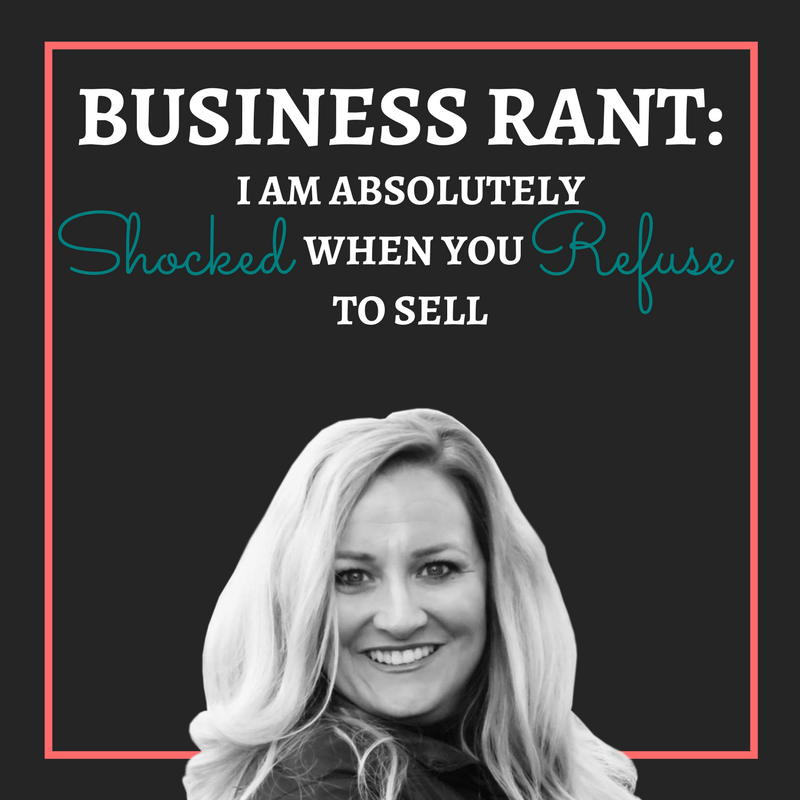 I know that you're amazing at what you do.
And I know that you LOVE what you do.
And I know that you value the CHANGE you make in the lives of your clients. 
And I know you think you were BORN for what you do.
And you're PASSIONATE about what you're supposed to be selling. 
BUT, YOU'RE NOT DOING IT.
And, so you know, it literally shocks me to my core. ESPECIALLY WHEN YOU ACTUALLY NEED THE MONEY.
It baffles me. And I ask you about it. What are you selling?
Not what are you getting READY to sell.
Not what are you writing a sales page about.
Not what are you working on…
BUT WHAT ARE YOU ACTUALLY SELLING?
Because we agree that you can only TRULY help your clients when they — duh — become clients.
And we agree that you KNOW your product or service or program will help them.
And yet…. YOU DON'T SELL LIKE IT.
You're willing to hint around about the offer.
You're willing to maybe post a link on Facebook.
But you're not willing to go toe to toe with someone, look them in the eye and say, "I CAN HELP YOU WITH THIS. HOW CAN WE GET TO A YES HERE, SO WE CAN GET STARTED?"
Do you think that makes you look Needy?
NO.
In fact, when you're not WILLING to INVITE someone to BUY from you, it makes me wonder if you believe in your stuff at all.
And THAT baffles me.
Because you know better.
Your heart KNOWS the difference you can make in people's lives.
YOU KNOW this is your CALLING, even… your MISSION in life.
And yet… you refuse to sell.
Here's an idea: Make your sales process as service oriented, as committed, as loving, as beautiful as WHATEVER YOU HOPE TO DELIVER… so that you love the process itself. So that you don't LIMIT your ability to help those you were called to help. So that you don't HOLD BACK THE REIGNS on your own potential in this world.
For God's sakes, sell something.
Like you REALLY believe in it.
**RANT OVER. ** BTW, want MORE huggable butt kicking? Join us over in WomenWhoWOW.com
Visit my Facebook page to read my article, SO YOU WANT TO BE THE GO TO PERSON IN YOUR INDUSTRY, HUH?