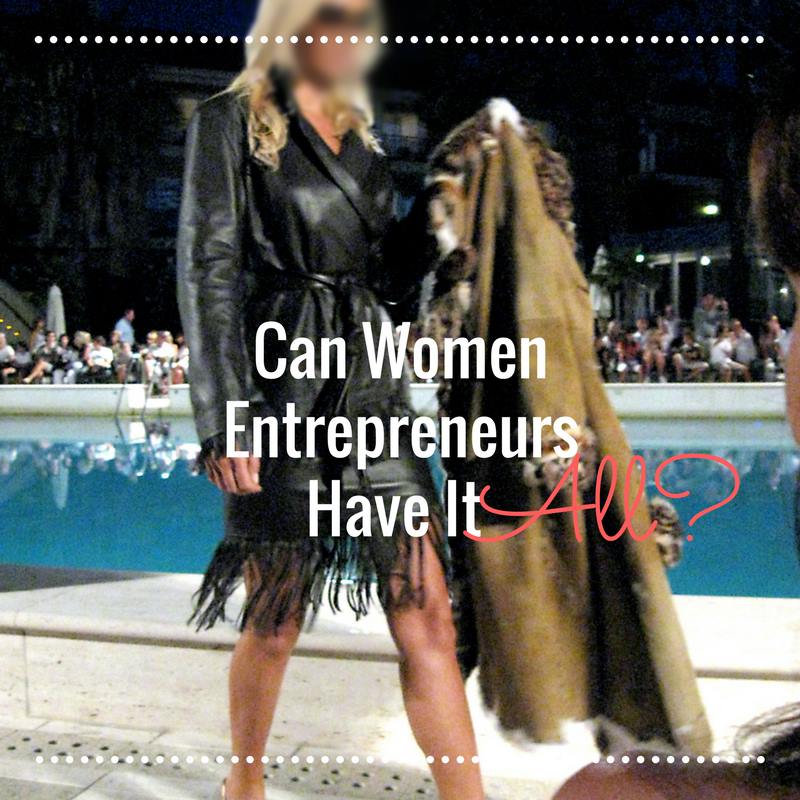 I'll never forget reading a CosmoGirl headline when my girls were elementary age. It said, "Want to make your first million, live in a mansion, come home to a foxy husband and adoring kids — all by the time you're 25? Why not? This is your new reality!"
I remember thinking, "God help us if this is what young girls grow up expecting… all of this, about 3 years out of college?"
Today I think…. maybe I was wrong.
When I had this gut reaction to the CosmoGirl headline, I was a very young mother, with one (or two?) kids still nursing, up to my elbows in spit up, poop, or worse. I had to produce a full-time income while working around 3 kid's nap schedules and eating schedules and — of course — my heart's desire to enjoy EVERY MOMENT with them. (i.e. No nanny or sitters here.)
Today, I woke up thinking about this article and the question, "Can women REALLY have it all?" and I my KNEE-JERK response was, "YES OF COURSE…. AND THEY SHOULD"
The money.
The body.
The marriage.
The home.
The family.
The fame.
Today, I live exactly how I want to live… exactly where, exactly how. (I'm working daily on the whole body thing, which — of course — could have been SMOKING HOT all along… but I didn't see the possibilities.)
Today, I see what's been possible all along… and I look back to the times in my life when I thought that "it wasn't my season to go big… let the kids get a little older first, etc."
TODAY, I look back and think I was just making excuses… that I could have/should have done it… that I could have built an amazing brand or business in the same amount of time that I was building one that was "mediocre." Succeeding, yes. Paying our bills, yes. Even breaking six figures for the first time… BUT falling WAY short of what I knew I was going after.
Of course, let's face facts… TODAY, I'm no longer in that season. My kids, all teenagers, are very self-reliant. Two are driving, in charge of their own schedules, etc. So, I waffle a bit…. maybe I WAS right about that "young kid" season… and my lack of time, and how it would make "GOING BIG" so "impossible."
BUT TIME IS SO RELATIVE ISN'T IT?
I'm always shocked at how nearly EVERYONE feels they have no time.
The stay at home mom with one kid OR The entrepreneur with no kids will QUICKLY (and WITHOUT APOLOGY) bemoan the same "lack of time" as the Single mom-of-three with no child support coming in, no backup plan, working a full-time job and building her side hustle at night.
I'm not immune.
My own mentor recently busted my chops, "I'm not sure what you're DOING all day, but…" OUCH. Here I was feeling ultra productive, until THAT little conversation which exposed a whole new level of production that was possible for me.
A couple of my kids' friends have stay-at-home moms. These women are home alone for 8 hours every single day and complain vehemently (out loud) about no time, no time, no time. My kids literally come home in disbelief. Gobstopped.
But, time is relative, for all of us.
So, let's get back to it. Can women entrepreneurs REALLY have it ALL? Whenever they decide to have it all?
I've got to go with YES.
As I sit here typing passionately on my luxurious deck overlooking 150 acres of farm land with my dog snoozing next to me and an amazing day and night planned… I've got to say YES.
WHY DIDN'T I CREATE THIS LIFE, THIS BUSINESS, THIS SUCCESS 'BACK THEN'?
I — frankly — didn't know I could.
I saw all of life as a trade off. Not in a bad way, but in an "I'm an adult and this is the way it is" way.
I thought more money meant less time with my family.
I thought success meant BUSY.
I thought working on my business meant giving up the time to work on my body.
I thought I was being realistic… mature… WISE even.
I never stopped to CHALLENGE my own thinking. I looked at how OTHERS created success and I thought that was the only way. And I didn't WANT success that way. I wasn't willing… and so I held off. It wasn't until later that I started diving deep and determining to create success MY way.
At first, I just tested "reality." I pushed the envelope of my expectations. Then a little further. I started becoming a bit "unreasonable," more "outside the norm" of what I thought was possible… for me…. right now. GRADUALLY, I challenged my own limited thinking (what I called "reality.") And for a long time, I was surprised every time to realize I just get to WRITE my own reality. I get to wake up and CREATE it… to a very large degree.
If you want to learn to put your MIND to work to make MONEY…. on demand…. and according to YOUR specific preferences, join me on a 30-day immersion experience into mental toughness.
This program is about confidence and clarity and mental toughness, of course. But mainly it's about betting on YOU. Seeing — and then creating — the possibilities. About making the IDEAL your default reality. About staying the course. About REFUSING to lose. About bending REALITY to your will. It's about money. And influence. And success.
It's about CATAPULTING YOU OUT of mediocrity…. about DEFYING norms… about leveraging EVERYTHING…. It's about living — and working — and building YOUR success YOUR WAY.
Join me. We start July 31st.http://www.bmichellepippin.com/mentaltoughness/