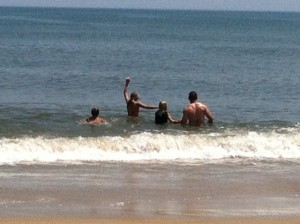 I love the summertime.  It's warm.  My kids (AND Mister) are home.  We live on the coast so I have a nice choice of beaches to visit.  We bought water park passes.  No homework. No schedules.  No alarms.
But, until this summer, this "freedom" meant a drop in income for my business.
I know I'm not alone.  Not ONLY are our kids home, we want to be with them.  We want to enjoy them.  But, even if  your kids are grown or you don't have any at all, summer time poses some challenges business-wise.  The people you're trying to reach / sell to are on vacation.  OR they're attending graduations.  OR they're spending money on back to school stuff.   OR they're just trying to do what you're trying to do– manage what's on their plate while enjoying their own summer…. so any thing "new" they need to consider is a bit of an inconvenience.  Calls go unreturned.  Emails go unopened.  AND, schedules in general are a bit awry, so even scheduling a conversation is a bit more of a struggle than it should be.
Let me be completely honest and say that even as I — for years — traveled the country speaking on business success…. providing what is now being heralded as business strategies for "MAINstreet" America business owners….  (You know, not Wall Street, but Main Street —  people like you and me.)
I was struggling with this issue of Summertime and Business.  
HOW could I ENJOY my summer, scale back what I needed to do day to day, and experience a JUMP in income rather than a SLUMP?  For the previous three summers, I'd ACTIVELY worked on this plan and failed.  Miserably. I either made a bunch of money but didn't have enough down time at home with my family.  OR, I had great days at home with my family and found myself needing to double my efforts in the fall to reach my end-of-year income goals.   Every summer, for four summers including this one, I tried to create this perfect sweet spot:
Down Time
A Great Tan
Plenty of Time Outdoors
Exercise
CookOuts
Lots of snuggling on the couch
Great Movies
Beautiful Rain Storms
AND
Increased Income.
Finally, this summer, I did it!  HOW?  Well, FOR NOW, I'm only going to share ONE strategy with you — the most important one — and ask if you're willing to do it with me.
NOTE: This strategy will not only let you enjoy NEXT summer, but it will also allow you to get OUT of a sales slump RIGHT NOW if you're in one.  The strategy is this:  Commit to ONE FULL DAY each week of client acquisition.  That's right.  SELL for one full day per week.  For many of you this may include complimentary coaching sessions, for others it may be calling on prospects and having that sales conversation, or reaching out to a potential joint venture partner, or filling seats to the event you just created, inviting corporate execs to sample your new corporate chair massage offer or corporate chiropractic special, etc.
The KEY to this is having a plan.  Let's say you'll make MONDAY your Rain Day.  Sunday night, you should have a plan.  WHO will you contact?  WHAT will you say?  What will you invite them to check out on your site? in your store?  at your practice? and HOW / WHEN will you follow up?
The second key is consistency.  Hence, once each week.
Quick tip: If you're in summer time mode, sell into the future.  Sell packages or seats or programs that they pay for NOW and you deliver in the FALL.  P.S. That's a delicious tip. I hope you fully digested it. 
NOW, I'm putting together a 90 Day Business Challenge.  The details are still coming together, but it will take us through the end of the year.  BEGINNING in October. I'm calling it FINISH STRONG 2012 Challenge.  If you can't commit to a weekly sales day, fuh-get-about-it.   This isn't for you.  BUT, if you're
frustrated with the untapped potential in your business
want to have the strongest year (profit-wise) you've ever had
need a substantial cash infusion to meet your financial goals,
Well, the FINISH STRONG 2012 90-Day Business Challenge is for you. To get all information, email me at michelle@bmichellepippin.com and we'll get back to you as soon as all details are wrapped up with a pretty little bow.  Get ready, though.  Because this will change everything.