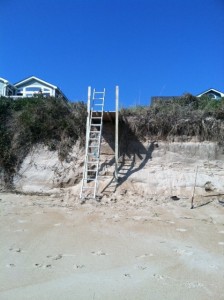 This ladder is replacing what used to be a stable, secure set of beach steps leading these home owners from their back door to the foot of the ocean.  The thing is, I passed no less than 20 of these missing steps on my morning jog this weekend.  Only this one was using a ladder.
I had to wonder how many of these home owners were simply not going down to the ocean – because their convenient steps had fallen victim to Hurricane Irene.  How many were having coffee from the deck instead of with the sand between their toes – only  because their typical path had been displaced?  How many were simply waiting for their steps to be replaced?
A small little thing, indeed…but it got me thinking.  Sometimes plans go awry.  Our investments don't pay off.  We have to change course – and suddenly.  We get disappointed, frustrated or hurt.  Rules change.  Realities change.  So, what do we do in situations (or seasons) of disappointment?
For me, I'm going to bring a ladder. What matters to me most is what I've committed to personally, professionally, relationally… not how I have to get there.  Regardless of what's changed for you, what disappointment you've faced, what challenge lies ahead of you, there are always options.  I'll never be content to have my coffee from the porch, when feeling the sand between my toes is just a ladder away.
But, that's just me.  I'd love to hear from you!
xoxo
5 Responses to "Disappointment May Require You Use a Ladder"