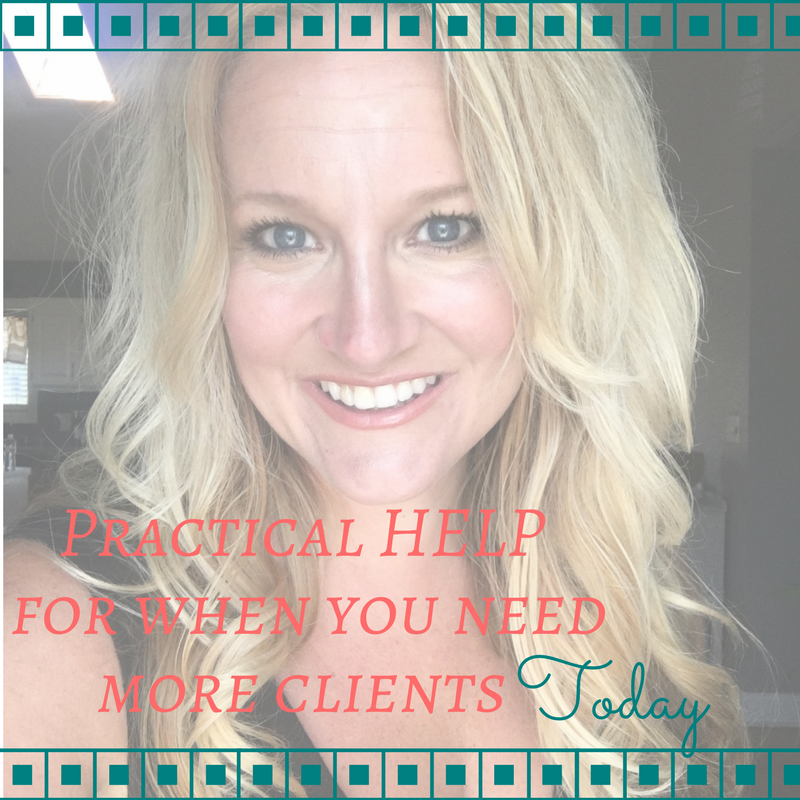 There is so much I want to cover in this one post. I could talk about the energy of "needing" clients, and how "need" is a client repellant and how selling HABITUALLY (instead of only when you need cash yesterday) is a cure to getting into this position in the first place. But I won't.
I could talk about branding or packaging or pricing or content marketing. I could passionately implore you — again — to show up every day with a message that motivates people. (You know, to set yourself apart from every other competitor showing up once a week with a carefully polished post or video.) But, I won't.
Instead, I just want to get to the HEART of getting clients when you need them.
You don't have to be well known.
Or online.
You don't have to have a website.
Or a huge social media presence.
You don't have to have a logo, or a book or a podcast.
Or a team or a mailing list or an active blog.
If you need clients today,
you just need to
1) have a solution they need and are willing to pay for;
and
2) INVITE them into a professional relationship with them, which is where you can apply said solution.
I remember the first time I had a high-end coach.
Britney Spears was going through some STUFF.
Shaved head,
videos of her going all "extra" on a parked vehicle.
You remember…
Anyway, I mentioned — half-heartedly — that I'd love to coach her. And my coach says, "Great. Let's send her an invite."
Don't get all excited.
I did NOTHING.
Why? Because I was like every other coach that didn't follow through because she didn't feel ready…. or whatever.
But, the thing that I remember most is how SIMPLE he made it.
I wanted a client.
I knew who that client was.
I knew what I wanted to help her with.
and his BRILLIANT "strategy,"
was an invite.
Looking back, the personal invite strategy is the cornerstone of EVERY SINGLE DOLLAR I've made in my business.
In 1999 – 2000, I mailed out 100 letters, inviting people to hire me for "at home secretary work." $63,000 earned.
In 2003, I mailed print invitations to my very first Great Women's Gathering. The teeniest of seeds were planted that day for Women Who WOW.
I created clients through greeting card mailings and direct emails inviting people in to a strategy meeting with me.
Nearly EVERY butt,
in EVERY seat,
be it a 200 person event,
or a 12-person event…
was filled with a PERSONAL touch email or invite in SOME way.
Women Who WOW (which if you're not a member, but you're reading this… email me. NOW is THE time to join.) was filled and is STILL largely populated by MY OWN personal invite. (And the invitations from our members to their friends.)
Private,
simple,
"Hey — check this out" emails.
or phone calls
or Facebook messages.
So, if you are in need of a client TODAY.
Forget all the hype.
Drop all of the "shoulds" weighing on your business.
Lose all of the things you think you MUST do in order to look professional enough to earn someone's business.
And invite them,
into a conversation,
Instead.
Don't invite just ONE person.
Make a list.
Connect with EACH person personally… privately.
And let them know how'd you like to help.
And then, repeat.
When you see someone you could help.
Invite them…
to lean in closer…
to consider your offer….
not for YOU,
but because of what YOU can do for THEM,
when they say YES