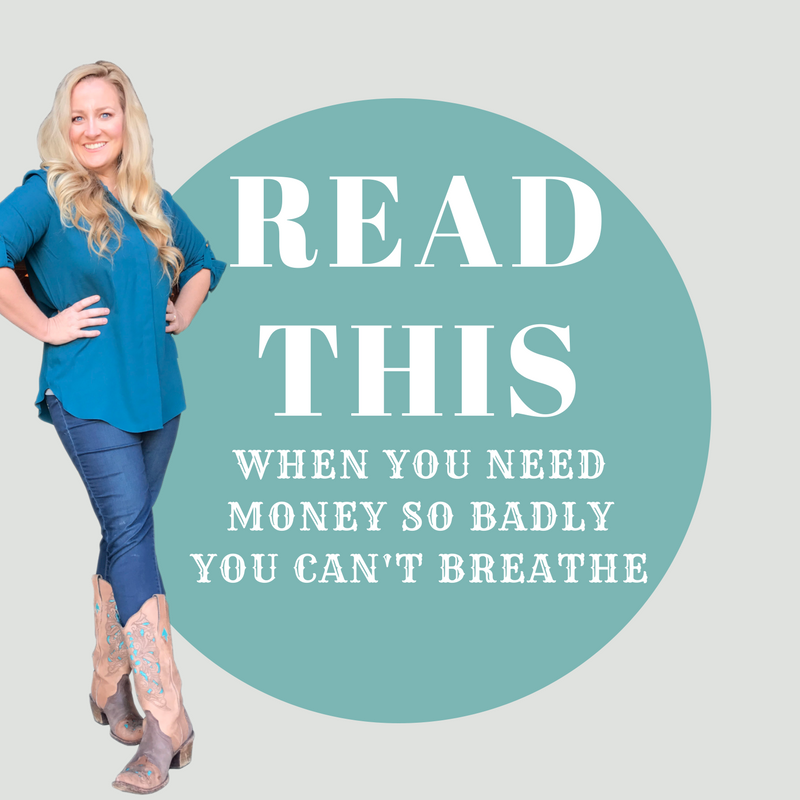 …IT FEELS LIKE YOU CAN'T EVEN BREATHE.
The first time I heard someone describe MY feelings towards money ACCURATELY, they equated it to oxygen. A perfect analogy, I thought.
When I was "running out" of it, I literally felt like I was unable to breathe… everything was labored… my time, my energy, my very ESSENCE was deflating. When I got another payment, I'd INFLATE once again, take a deep breath, but then…
THEN, I got back on that treadmill… I'd see the money dwindling and despite "holding on tight" to it, I'd feel that tightness in my chest.
Need.
More.
Money.
JUST LIKE OXYGEN.
If you've never been here because you were born with wealth or you married (or divorced) "well" and have a settlement, this may seem so foreign to you. That's okay… share this with someone who DOES need it. I'll be back tomorrow with another message.
But to everyone else, I want to first tell you I know exactly how you feel. I know the tension of wanting to do what you're called to do, but feeling this pressure regarding MONEY… I've experienced the tightrope you walk of ENVISIONING abundance, but when you open your eyes, seeing LACK.
I know the shame of making every single decision based on what you can afford… the anxiety of a weekend coming up and not having enough money to pay the relatively MODEST expenses for what you have planned.
Truthfully, there's a certain part of me that STILL feels shame over those early years. Looking back, I realize that I was always in control of my income, but it took me "too long" to really act on that dominion.
Instead, I operated in fear and lack.
I did a lot of HOPING.
And even a lot of PRAYING.
But, my ACTION… well, it was stifled. I wanted clients to come to me and for them to see how amazing I was. I wanted them to LINE UP, card in hand, ready to pay. I wanted them to treat me as a partner, and not as a hired hand. I wanted them to take my advice, act on it.
I wanted all of these things, and I wanted abundance, more money, FREEDOM around money.
But, when I was "out of money," I felt sluggish…. sometimes even sick to my stomach. My creative cash-creating self was just stifled. I wasted time, procrastinating.
If I had been working with a coach at the time, (and I should have been) they would have told me something to do…. and I have NO DOUBT that I would have thought of 10 reasons why my business, my list, my industry was "different" and wouldn't respond to that.
I am sure some people reading this will feel the same. They'll read these action steps and they'll stay in doubt. But, for those of you who are DONE with this hand-to-mouth existence, you'll find comfort, energy and even — yes — MONEY in these next four "to do" items.
1) CREATE a MORNING RITUAL.
This ritual should FEED YOUR SOUL. It should help you set the direction for your day and it should include ONE thing that helps you connect, serve, reach your target market.
My own morning ritual begins with a cup of coffee and my Bible time. Then, I journal about whatever God puts on my heart, but also about what my message TO YOU is going to be that day. Then, I do what I'm doing now… I type up an article, which I will share all over social media and also on my blog. 9 times out of 10, it will also have a call to action…. as this one does.
When you have a habit of this, it keeps you moving forward, it begins your day with momentum, and it keeps you in front of (serving and leading) your target market. Not bad for something that ALL happens before 8 AM, right?
Habits/Rituals get done. No matter how cash/oxygen deprived you feel/are.
2) PLAY WITH NUMBERS.
I have no idea why this came up for me this morning, but I wrote in my journal, "Numbers light me up." I love playing with numbers. For instance, if I had a $40K per month goal — and didn't want to work with private clients — I'd ONLY have to sell about 90 Women Who WOW memberships. JUST 3 a DAY.
I know that in order to get THREE people to say yes to WOW (it's priced as a NO BRAINER yes), I only have to ask 7 people.
7 People PER DAY.
40K per month.
This realization came from playing with numbers.
So, PLAY with numbers. have some fun with it. Do you want to earn even $5K per month? GREAT. How many different ways can you do that? Can you sell ONE person a $5K program? Can you create a $500 program and sell it to even TEN people? Do you have a list that would buy a $50 program from you?
I think the key is in the PLAYING…. there are SO MANY ways to earn money. Play with YOUR numbers, do it daily… look at them, make them real.
3) SEE THE POSSIBILITIES.
Always know that there are people around, sometimes "lurking" in the shadows, around the perimeters of your business who are watching, wondering if they should reach out. There are people in your life RIGHT NOW who you need to ASK… INVITE to step into a working relationship with you. SEE the possibilities. Look with fresh eyes. They ARE there. Low hanging fruit. Then… the ask:
4) ASK 10 PEOPLE PER DAY TO WORK WITH YOU.
Now, I'm losing you, right? WAIT….don't walk away just yet. Because, when you get "desperate enough," you always ask… you always invite… you always end up inviting people to do business with you, right? WHY WAIT??????
Create an offer that excites you. (See our LAUNCH ANYTHING training in the membership site for more on how you can launch something that makes money immediately.) Send it out to your list. (That counts as ONE ask, btw… no matter how many people are on your list.) THEN, ask one influential person to also share your offer. (That counts as ONE ask.) NOW, send that offer to EIGHT INDIVIDUALS and don't be LaZY about it.
Don't just send a link, but let them know why it's for them… why you thought of them. ASK and then follow up.
MORNING RITUAL.
PLAY WITH NUMBERS.
SEE THE POSSIBILITIES.
MAKE 10 ASKS.
Do these four action steps every single day and money will STILL feel like oxygen but in a completely new and abundant way. It won't feel like it's being sucked out of the room, but like you're out on your deck, breathing deep, listening to the chorus of birds chirping around you. No tightness. No fear. No anxiety. Just deep, slow breaths.
P.S. For Women Who WOW members, I have several great trainings this week as part of membership. The first today is The Architecture of Sales Proposals that Nearly ALWAYS Get the YES! and another is Friday: How To Go From $60K per year to multiple Six Figures.
BUT, we have a 5 week deep dive program coming up in June called "AUTHENTICITY & AUTONOMY" that will not only help you create money on demand but in a way that is completely ON YOUR TERMS. Message me on Facebook for details.