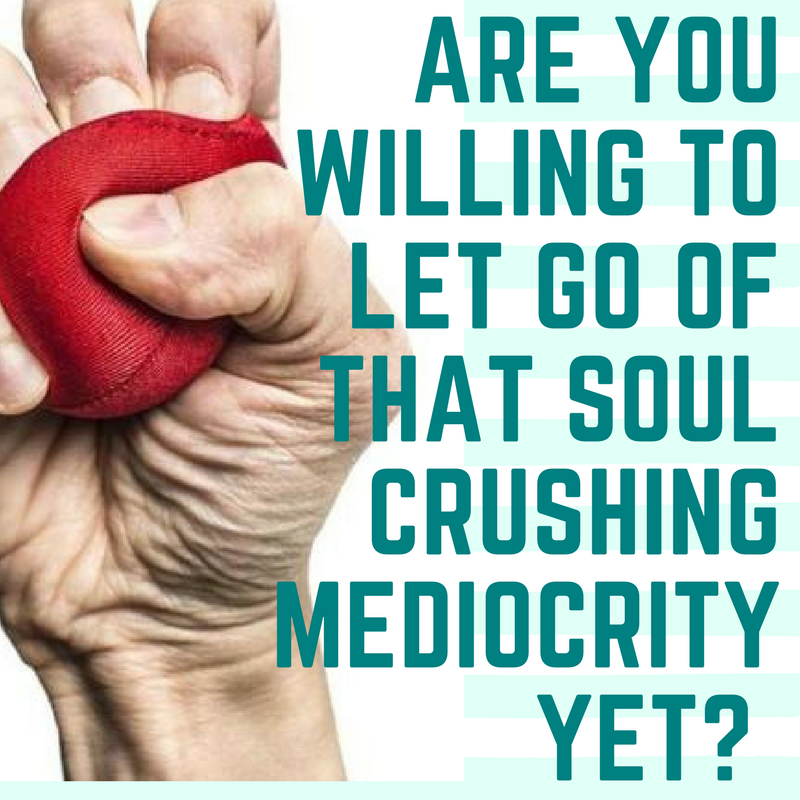 First things first,
ARE YOU WILLING TO RELEASE THAT WHITE-KNUCKLED GRIP ON WHAT YOU DON'T EVEN WANT ANYMORE?
I saw a post — a simple question really — about quitting what you don't really like to do and doing more of what you LOVE. So friggin' simple.
And yet…
And yet….
So few business owners are willing to do it.
Unwilling to fire that client that never refers, to pull the plug on that program of yours that's — let's face it — dying from anemia anyway. Unwilling even to change your schedule around to fit your personal preferences.
I HEAR you tell me that you want something "more."
Something more profitable.
Something more "aligned."
Something you're more proud of,
Something more FREEing (time-wise, financially, and personally.)
Something more rewarding.
Something with more impact and less stress.
But mainly, what i HEAR you say is that you want something with less SOUL-CRUSHING COMPROMISE.
Less chasing clients. Less cutting back on your proposals so you can lower the price and get the yes. Less wondering where your next client is coming from. Less SOUL-CRUSHING anxiety about when — or whether — this business of yours will ever really be what you imagined… what you think it can be…
I get it.
You want what you were BORN for,
and nothing less.
This is what you SAY, anyway.
But what I SEE is this white-knuckled, fear-based grip on what you have RIGHT NOW. What I SEE is you holding on so TIGHTLY to what you tell me is unacceptable and "not enough."
You TELL me one thing, but SHOW me something else.
You TELL me you want something more, better, different, but you SHOW me your ironclad commitment to what you have going on right this very minute.
Oh, friend…. I HAVE been here myself.
Of course.
Tied to "what is" by some imaginary fear of "losing money," and some VERY REAL monetary needs.
I'll tell you in a minute how this ended for me. For GOOD.
There's an amateur, cheap little picture that is displayed in my parent's house. It's out of place. The frame sucks. The baseball-themed artwork is child-like and the colors don't "go."
But here's what it says,
"YOU CAN'T STEAL SECOND WITH YOUR FOOT ON FIRST."
True in baseball / softball.
Even truer in business.
You CAN NOT create what you really want while holding on — with a death-like grip — to what you have RIGHT NOW.
It just won't happen.
Let me tell you how I personally made the leap… how I personally let go (and continue to let go) of "comfortable" things that threaten to DETOUR me from my ULTIMATE VISION… things that may HINDER my ability to go after what I REALLY WANT. (I call it PRUNING.)
First, there was NO WAY I was letting go of anything concrete (bird in hand and all) without an equally concrete vision of what I was going after instead.
My vague little daydreams…
Even my vision boards…
Or my New Year's Resolutions…
they were all fancifully VAGUE. Beautiful, but not concrete.
NOTHING releases your grip on "what is" like a CONCRETE vision, a true awareness of what it SHOULD BE.
Once I saw what I really wanted,
In living color,
even when it was only in my journal….
Releasing the "unacceptable mediocrities" of today became EASY when I knew exactly what I was trading them in for.
So, stop telling me what you WANT.
And SHOW me.
But first, show yourself. Write it out. Be specific. Spend a 1/2 day on it. Answer questions like,
how will I spend my days when my business is where it SHOULD be… where it DESERVES to be?
who will I work with?
what will this work look like?
what does my office look like?
what programs do I offer?
how often am I launching?
how many people do I see each week?
what will I NO LONGER DO? (this is key) What will I no longer do for free? What will I no longer do regardless?
What behaviors will I no longer tolerate? From myself? From others?
how will I eat?
how will I travel?
how will I take care of myself?
PAINT A PICTURE THAT COMPELS YOU TOWARDS IT.
PAINT A PICTURE YOU LOVE MORE THAN THE "COMFORT" OF TODAY.
And then, leap. If you'd like a safety net… PM Me on Facebook about a full day in-person-intensive with me, or even a one-off strategy session.