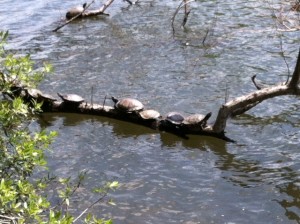 Today, I went for my typical walk around the lake just behind my office. A common sign of spring here are these (pretty big) turtles sunning themselves on the fallen limbs all along the water's edge. So, when I saw these guys, I moved in close trying to get a good picture.
I was focusing my camera, zooming in and walking slowly toward the water… when about 18 inches away from me I heard  PLOP!
PLOP! PLOP! PLOP!
I thought for a minute I had kicked in some rocks with my feet. But, no.  Right under my nose, about 12 turtles were diving in from the side of the lake… no more than one foot from my toe.
In my hurry to get a glimpse of those turtles who were "far away," I'd missed the turtles right under my nose.
Business owners do this all the time — chasing after what's OUT THERE while OVERLOOKING what's RIGHT HERE.  So, let's take a minute to consider the possibilities.
What opportunities, new clients, referrals or options might YOU be overlooking?