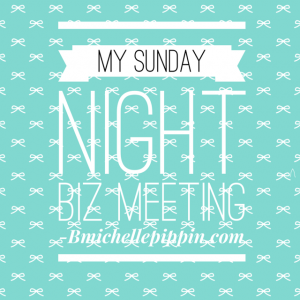 I'm not sure EXACTLY what we'll be doing with this — as a new weekly post —  but for years now I've been encouraging business owners to have a Sunday Night Business Meeting with themselves.  The purpose?  To go into the coming week with a plan of action, a strategy for attack.  You see, if YOU don't have an agenda for your business, the rest of the world DOES.   My Sunday Night Business Meeting has been something that kept my business not only on track, but moving forward. 
This week begins a real ramping up phase for spring (AKA event season) in my business.  Here's what's on tap for this week:
Monday
Monday is exciting because I get to celebrate my Mister's Bday!  (He's 39!) =) But I also get to talk with a somewhat local ICF Chapter president regarding bringing me in to speak to coaches who want to FINALLY escape "broke coach" syndrome.  MUST secure plane tickets for trips I'm taking to TN and TX in May & June — respectively.  (I used to be a southwest.com devotee, and now I use kayak.com.) As a bonus, I get some private Skype time with a WOW member who I totally admire.  We're going to be brainstorming where she should "fit" in her own industry.
Tuesday
Tuesday, I get to celebrate my nephew's 15th birthday!!!!   I'll also be speaking with the host of an event I'll be speaking at in June!
Wednesday and Thursday
This is the THIRD week of April, which means on Wednesday and Thursday, I'll be meeting with 10 different business owners — each privately — to identify profit hacks and strategic tweaks to better their business and build their bottom line.   I CAN NOT wait.
On Wednesday, I'll meet with my Kiwanis club in Chesapeake.  And on Thursday, I'm  THRILLED to be meeting THE Lee Milteer for lunch.   I'm super excited.  Obviously.
Friday
Friday is perhaps the day I am MOST looking forward to.  I have been invited to a closed door mastermind of highly driven attorneys, all committed to direct response marketing, and — frankly — I'm just honored to have been invited to attend. As a group, we're reading the book, Disrupt, which I highly recommend.
So… are you having your own #SNBM? If so, what's most exciting about this week coming up?