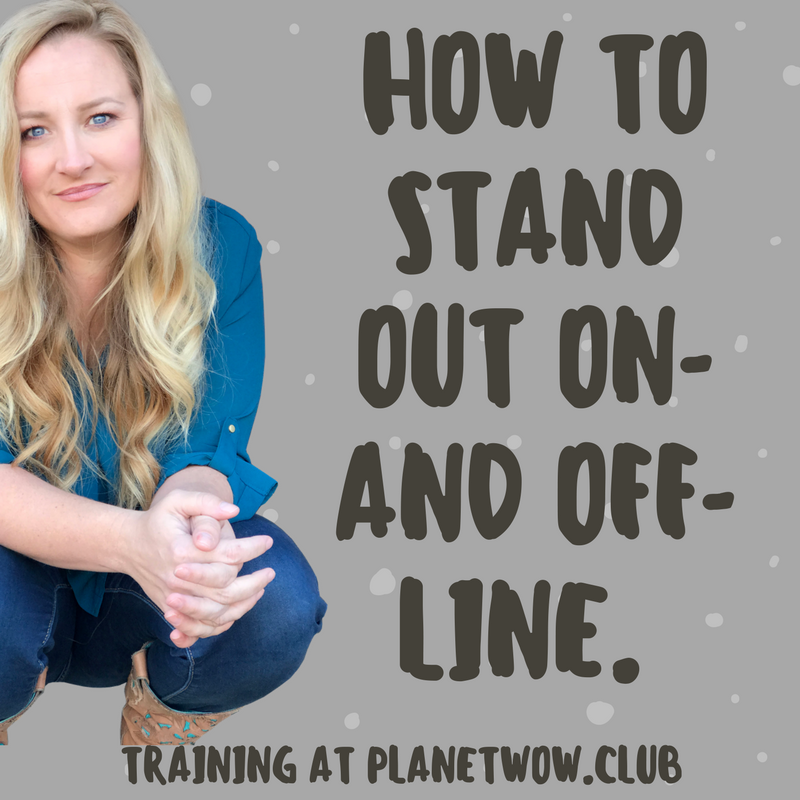 That's what you really want, right?
To stand out?
To be the GO TO person for your chosen market?
To be a MUST FOLLOW?
To go from being a "best-kept secret" (which — trust me — is only fun for so long) to someone PURSUED BY MANY… for interviews, by clients, by people wanting you to speak, write, teach?
While I did a full and proper training on this very topic for Women Who WOW members (which you can find here)  there's one thing you MUST be willing to do if you want to stand OUT.
You must SHOW UP.
You must SHOW UP DAILY.
And… most importantly…
You must SHOW UP DAILY AS IF WORTHY OF YOUR MARKET'S ATTENTION.
BUT WHAT IF NO ONE IS PAYING ATTENTION? WHAT IF YOU HEAR CRICKETS? WHAT IF NO ONE READS WHAT YOU WRITE? WHAT IF NO ONE SHOWS UP LIVE TO YOUR LIVE STREAMS? 
What if?
Well, for starters, don't be a wuss. What if you show up and no one pays attention? What if you write something brilliant and it doesn't seem like anyone read it?
The answer to these "what ifs" dear friend, is this: what other people do isn't up to you. Who cares? Their action or inaction is up to them. YOUR JOB IS TO SHOW UP and DELIVER.
Do you TRUST your message?
Do you KNOW it will impact people?
If so, because I know you're so giving and generous, how could you POSSIBLY keep it to yourself?
Trust me… I have LONG referred to myself (affectionately) as a "nobody." And yet…. people ARE listening.
I've gotten countless emails from people who I had NO IDEA were reading my "stuff." They didn't comment. They didn't "like." They didn't share. But they said their LIVES were changed.
By me.
Because I showed up.
Often unprepared.
A lot of the times rushed, thinking my time spent messaging may end up being a "waste."
Many times wondering if anyone ELSE was going to show up.
Sometimes hitting "Publish" or ending a live stream thinking, "Well, that sucked." and wondering if I should even publish it at all.
Quick little secret:
I showed up AS IF I were talking to hundreds of thousands. Always. Even "back then." (And now, according to SOME metrics, I am.) One day, I'll be impacting MILLIONS. 
So, today, I'll show up AS IF these millions are already under my proverbial, online tent.
Do you BELIEVE in what you sell?
I'm asking you again…
Because if you're not showing up DAILY and showing up as if YOUR MESSAGE is worthy of your market's attention…
Then, I don't believe you do. 
Arnold (of "I'll be BOCK" fame) used to walk around and ask people if they wanted his autograph. At the time, he was an unknown bodybuilder… unknown locally, unknown globally. Read about him sometime. The man just kept showing up, as if worthy of commanding an audience.
I read the Bible every single day and today, something new hit me.
Each of these men wrote different "books" of the Bible and they had a VERY limited audience. (Even today, we only get to know approximately 470 people in a LIFETIME… I imagine it was less back then.) Distribution options for their book were painfully limited and slow. PLUS, they had to trust someone else with their message. They had no platform. No coach. No editing team. No print on demand. They had NOTHING that would make them a "best seller." NOTHING that would make them think they'd be read by millions and millions of people in however many languages.
They had NOTHING.
NOTHING but a message they HAD to share.
NOTHING but a message that they BELIEVED IN with ever fiber of their being.
As it turns out, though, YOUR MESSAGE is enough.
Because showing up DAILY, as if your MESSAGE were powerful ENOUGH to move mountains is just the beginning.