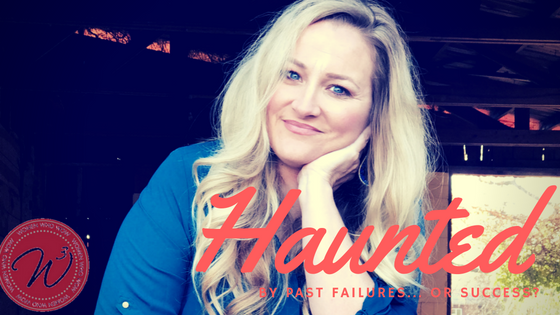 This is my first official blog post of 2017 and — trust me — this is not the topic that was scheduled this week.   But it IS the topic BEGGING to be written, tonight, after work hours, while my husband is in bed early, two of my kids are preparing for bed and I'm waiting for my oldest to come home.
Bottom-line: I'm doing something this year that scares me.
With each passing day, the commitment I made to my first annual Women Who WOW LIVE! event in Houston, TX looms closer… and I'm having to work deliberately to jump tracks in my brain, to stay the course, to go BIG and to look FORWARD to what is going to be an amazing, unprecedented and — pardon the pun, WOW-worthy–  event.  (A quick summary of this event is below because I don't want you to miss out.)
But, back to my fear… that track that keeps playing in my mind… a track that WARNS me, NOT OF FAILURE, but of what success looks like for 100+ people events.
I've done this before.
Many times.
And it was the most frazzled I'd ever been, the most unhappy, the most unhealthy.  (And, to be honest, the least profitable.)  
So, as I plan for this event in Houston, the "loop" in my brain plays a picture that is haunting.  I don't worry about not pulling off a successful, amazing, profitable event.  I DO — however — have this assumption, this "normal" belief that "reminds me" — hauntingly — that this event success… will come at a cost.
You've felt that way, right?
We tend to expect what we have already experienced.  We tend to assume that history will repeat itself.   The problem is, these assumptions based on what we think is "normal"  — based on past failures AND successes — tend to stick around, for better or for worse.
For example, I have a certain weight that I just assume I'll never go above.  It just wouldn't be NORMAL or customary for me to go above that.   And I don't.  I've nudged dangerously close to it, lol.. but something KICKS in and I go back to a (still too high, but shifting downward) set point.
The same thing happens for us with income. We have a low floor that we just — for whatever reason — don't ever fall below.
In these cases, our "normal" beliefs tend to serve us well.  But, what about in reverse?  What about that glass ceiling?   Actually, scratch that… what about that seemingly CONCRETE ceiling of income that we —for whatever reason — feel we'll NEVER be able to bust through.
I want to talk tonight about that "for whatever reason" thing.
Here's the reason:  we DEFINE and DEFEND what's normal for us, based — lazily — only on what we have experienced.
BUT, we're not lazy.   So, we can deliberately, actively up-level/change/shift / BLOW UP what we believe to be "normal" for us AT ANY TIME.
(Quick note: A favorite journaling exercise of mine is this:  "It is NORMAL for me too…."  I use this to re-write my own story of normal…. often.)
I've used this "redefining normal" exercise to help me lose weight. I've used it more often to dramatically increase my income.  I've used it to deepen my spiritual walk, to strengthen habits that support my life, to better my relationships with my family members.
It works.
And tonight, I used it again.
Literally, using writing as a tool to WRITE OUT my NEW NORMAL.
I'm re-writing — for the first time in about 4 years — what I believe or assume is  "normal" for pulling off an event like Women Who WOW LIVE!  With each swerve of my pen, I'm literally writing a new story, shifting my expectation, and increasing my energy.  I'm making it a "new normal" for event planning ( & promoting)  to be fun, exciting and NOT frazzled, stressful and hectic.
I'm writing a new story with my first ever, multi-day, signature event, exclusively for Women Who WOW members.  Read a BIT about this 2-day event below, but FIRST... what "normal" do you need to re-write, re-define in your business for 2017?  Is it a new income goal?  A commitment to fitness or nutrition?  A new way of loving that Mister of yours?  
Whatever it is, you have no moral or ethical obligation to let the past repeat itself. You have NO moral or ethical obligation to make small shifts or incremental increases.  You have NO moral or ethical obligation to struggle, to take one step forward and two steps back…. no matter HOW LONG you've done this.
Listen, it's normal for some of us to make six figures a year.  It's normal for some of us to make six figures a month.  It's normal for some people to get up and run every morning.  It's normal for some of us to travel 12 times a year.  It's normal for some of us to make more money than we ever dreamed possible, to reach more people than we ever dared to dream of reaching.  If it's normal for "them," it can become normal for you.
We can either deliberately choose our "normal" or we can sit back and let it happen to us.   The choice is ours.  For me, well…. I'll see you in TEXAS, baby!  xoxo