Unless the doors of your business literally opened this morning, you've been in business more than one day and — as a result — will be able to relate to the feeling of "swinging for the fences"….  and missing.  Humbling as it is, we've all gone to bat for a new client, given it all we had to "convert" them and then stared — nearly speechless — at an email that lets us know… they're a "NO."  Gulp.  Let's get to the heart of… and recovery after…  losing a sale.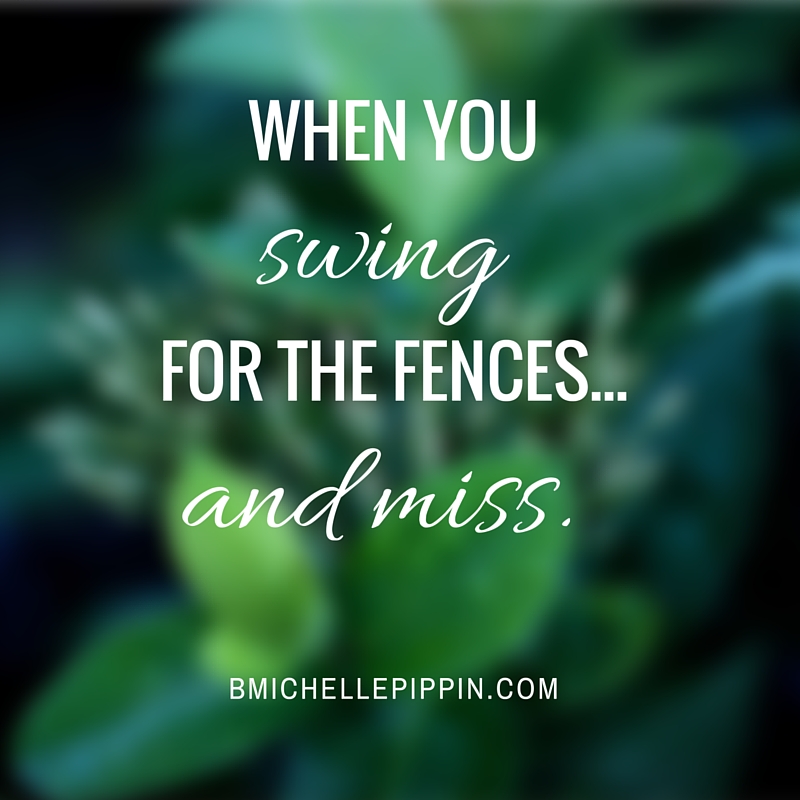 To start off,  let me just clarify that "I do all my own stunts."  =) This means that — as usual —  I'm writing from first hand, recent experience and not business theory.  First, let's clarify some facts:
The reason we stare nearly speechless at a PERFECT prospect saying "no," is because, well… they're perfect. In my case,  I don't take on a client that doesn't have a HIGH upside and a nearly non-existent downside.  In this particular scenario, monthly income was freed up in their budget due to a decision made prior to my pitch.   The work I was pitching would have put BEST PRACTICES in action, earning this business money right away.  It would have taken heat off the owners and produced a very healthy return.
I am sure you're the same in your own business. When you're swinging for the fences and going after that specific, perfect client… you KNOW the end result of working with you.  You see the YOU-shaped hole that's in their business, or health, or home.  It's a PERFECT, Cinderella-type fit.   And yet, they're a "no" or a "not now," or a whatever.  We're speechless because WE'RE so ready to serve, we can actually TASTE the rewards our prospect stands to gain… And yet…
It's a no.  And it's a HEART issue…. because our businesses ARE — to varying degrees — an extension of ourselves. Our WOW members believe in what we sell.  We believe in who we serve.  The heart of our business is woven into the "pitches" we make — especially to those perfect fit clients.
In a bold step of absolute, revealing authenticity, let me reveal how I USED TO — in the past — think about these situations.
I'd blame the prospect.  Ugly, and embarrassing, but true. I'd tell myself they were cheap or lazy or looking for something for free.  I'd whisper to my ego that they were tire kickers, time wasters and/or not REALLY committed to making their business work.  I'd roll my eyes and blame the prospect.   But here's the thing:  This prospect I'm telling you about was none of these things. This business owner is savvy, driven, committed, and invested.  Her team is polished, educated, experienced and very marketing – aware.   They — the business owner and each of the employees – 'get it' in all ways… and they were STILL a no.
OR, I'd blame ME.  Too many "nos" and most business owners are looking in the mirror thinking, "What in the heck???"  And, while there are many questions to ask and answer in these situations — see below — you do NOT want to erode your own "selling fuel" by questioning yourself.
WOW Truth: Businesses and sales grow best in the fertile soil of confidence and certainty.  Do not allow any NO to erode this soil for you.
I'm humbled to (finally…) be in a position of people willing to be on a wait list to work with me privately…  to be able to hard-core pursue a prospect, not because I'm desperate for their check, but because I CAN NOT IMAGINE not doing the work…. because my marketing chops are salivating at the opportunity… because I'm desperate for them to see huge increase with such simple changes/tweaks that empower them, elevate their brand and compel their market in the door. 
I friggin' love this stuff.  And, here's what I've learned…. through years of NOs, which may help you recover faster, better the next time YOU swing for the fences, and miss:
The "NO" from a perfect prospect will always be a "gulp" moment.  Always.  We're competitors and we WILL — at least I will — remember the "almosts" and the ones that "got away."  But do not complicate this "gulp" by being NEEDY for any prospect.  You can and should operate your business in such a way that you have a steady stream of prospects… allowing you to handpick who you work with and also — preferably — sell lower priced, less intensive packages to the rest. This is a matter of choice, strategy, and hustle.   When you are OVERLY dependent on any one prospect saying YES, this is your fault… and it is NOT fair to the prospect.  So, take a hard look at how you're marketing your business, how you're generating leads, how you're nurturing those leads, how you're positioning yourself within your market.
NEVER, EVER blame the prospect.  Never, ever.   It is YOUR job to cast a vision for their preferred future that is as strong in THEIR Mind as it is in yours.  Make no mistake, in this recent situation, I DID NOT do this… not compellingly enough, at least.   The ultimate responsibility for creating clients falls on MY shoulders.
Do NOT waste time questioning yourself. Instead, lift the hood of your business and question the following:

your lead generation strategies.
Question your pricing.  (Are they too cheap to spell value? Are they too expensive for your chosen market?)
Question your copy and sales language.
Question how and when you make your ask.
But never question or doubt YOURSELF.  Here's to many more YESes.  They are coming your way, believe me.  But consider this truth from author and coach Steve Chandler,
YES lives in the land of NO.
And, in case you were wondering,
there is no land of YES.