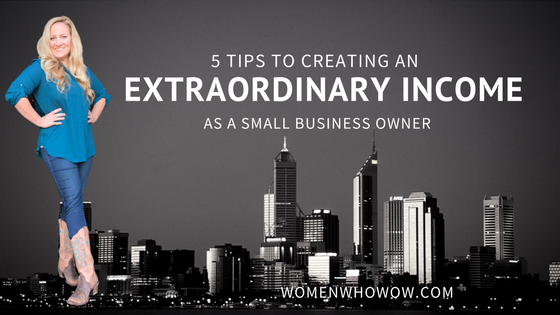 One of my goals for 2017 is to expand my reach, specifically through speaking, podcasting (radio) and other media… so an invite to be interviewed on The Brand Journalism Advantage podcast with the host, Phoebe Chongchua was a great start to the New Year.   In this podcast interview, I share:
a secret I didn't mean to expose;
why I disagree with Steve Jobs about persistence;
a real world (when it didn't work) example from 2016;
the one piece of technology I can't live without, and
 FIVE STEPS to Creating an Extraordinary Income as a Small Business Owner, which I've also highlighted below.
But, don't settle for the overview….  go and listen to the full interview.  It was so fun… and one of my first interviews of this kind.   In the meantime, the 5 tips I give are listed below for quick reference…. and — if YOU are a seriously driven woman entrepreneur and NOT part of Women Who WOW, come hang out with us.  We are definitely your tribe!
5 Tips to Creating an Extraordinary Income as a Small Business Owner:
A Vision that Excites.
It's important that your vision for your business is big enough to motivate you, excite you, get you out of bed in the morning raring to go.
Rules of Engagement
You need to create the rules of engagement that will govern how you interact with your market, and what access they'll have to you.  Without rules, your business will start to feel like an abusive partner… demanding, manipulative and controlling.
Give the First Fruits of Each Day to Your Vision.
Give the first of each day to your own vision, your own ideal business.  Pursue your income (and other) goals first.   Otherwise, all of the other work will get done, you'll stay busy, but you may never move the needle on your own income.
A Commitment to Measurement.
When you want to lose weight, you should either have a scale or –at least — a pair of skinny jeans you're trying to get back into.  YOU need some way to measure your progress…. and the same is true in business.  What gets measured will improve.   So always keep an eye on the numbers that matter: your income, your expenses and your time.
Outrageous Authenticity.
If you want to dominate your market, you will need to deliberately build a demand for YOUR OWN VOICE, your specific, unapologetically unique spin on your industry.  The CURE for being commoditized in any way is outrageous authenticity.
Want more?   Join WomenWhoWOW.com and come hang out with other unreasonably successful and unapologetically driven women entrepreneurs in our closed community.