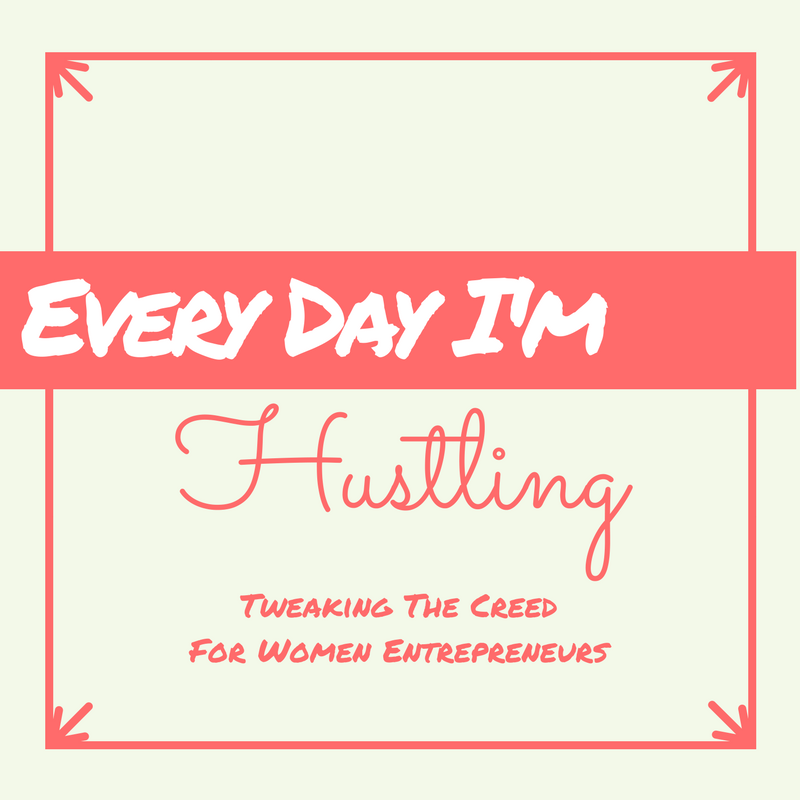 I went out of town this past weekend and came home with a mug that said, "Wake. Pray. Slay. Every day I'm hustling."
Perfect, I thought. but, the world of women entrepreneurs is divided when it comes to the TERM hustle. As for me, I have always embraced it… and always will.
The hustle is real.
The hustle is NOBLE.
The hustle is what I LOVE.
Still, a lot of influencers, creators, coaches, experts bristle against the term "hustle." They don't like it. To them, they feel like "hustle" is the OPPOSITE of flow.
I understand the hustle-aversion. I do.
I understand it MORE watching SOME women entrepreneurs living completely out of alignment with their goals…. out of alignment with their HEARTS, even.
Hustling every day.
Leaving early.
Returning home late.
Missing the important stuff.
HUSTLING from appointment to appointment, performing on demand…. Smiling on the outside, but feeling EXHAUSTED and BURNED OUT on the inside.
I want no part of that hustle.
And let me be frank: I'll take no part in that hustle.
Life is too short.
And my business, my message, my PURPOSE is too important.
Too important to risk burn out.
Too important to DILUTE with too much "performance."
Too important to BLUR with too much-harried action.
So, allow me to rewrite this "Everyday I'm Hustling" creed… so we as women entrepreneurs stand divided no longer.
What if YOUR HUSTLE, your EVERYDAY hustle was designed and tailored BY YOU to be a perfect fit? What if your HUSTLE was something you woke up EXCITED to do? What if your hustle created not only money freedom but time freedom as well? What if your hustle required NO performance and allowed you to be COMPLETELY yourself?
Because that IS what hustle is to me.
Doing the work, Yes… of course.
But never having it FEEL like work.
Because MY hustle involves me waking up and being myself… and reaching out to women, serving them, impacting them, encouraging, empowering and equipping them.
Like an artist, I wake up and "do" my art.
I let it out because it's what I'm here to do.
And I create income streams that NATURALLY both support my "art" AND are a natural EXTENSION of the art itself.
It all flows.
In fact, many of my Women Who WOW members — I guarantee — aren't even sure which of my stuff is PAID for and which is given for free as "marketing" content. It just flows. Beautifully, effortlessly, easily.
Am I still hustling?
YOU KNOW I AM.
I wake up every morning with a fire in my belly to take NEW ground, to push FURTHER into the world of women entrepreneurs, to challenge MORE of the status quo and to increase my impact and influence in this world…..
So, YES… every day I'm hustling. Wake. Pray. Slay. This is EXACTLY the order in which I have choreographed my mornings.
And I invite you to join me. In addition to WomenWhoWOW.com, which is open now for new members…
I am opening up MAKE IT MINE, a 6-week private intensive for women entrepreneurs who want to have it all, on their terms. It will be six weeks, it will be intense. I will be holding your hand as you RE-CREATE your business to be a PERFECT fit for you. Your income will soar. Your hustle will FLOW. You'll make waves and your market will stand up and take notice. If you're interested, PM me for more details.
Visit my Facebook page to read my article, SO YOU WANT TO BE THE GO TO PERSON IN YOUR INDUSTRY, HUH?