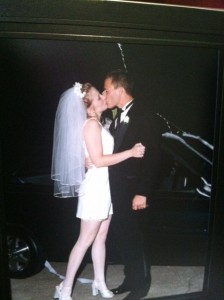 Do you SEE me in these pictures?  Oh, I was GIDDY.  This was taken after  I'd been married, danced the night away, and was FINALLY leaving for my first official night with my husband. As I look back, omg, I was a fool for that man.  Loved him unreasonably.  And WANTED him.  Whew….
But, like I tell my girls, I didn't NEED him.
And so it is today.  My Mister and I love each other — WANT each other.  Depend on and appreciate each other.  But, we don't NEED each other.
There are people who will vehemently disagree with me, but I do believe that having an unhealthy NEED (financial, emotional or otherwise) for your spouse creates an unhealthy imbalance in the relationship.
And so I encourage my girls and my son, "I want you to WANT your spouse.  But never to NEED them." 
The SAME truth is relevant in business… perhaps even MORE relevant.  You should WANT to work with your clients. You should WANT to see them succeed.  You should WANT to be a part of their lives, business, health, marriage, physical transformation, or personal reinvention… whatever is relevant to what you DO for / with them.
But you should not be in a position to NEED them.
You should not NEED them financially.
Whoa to the financially desperate business owner.  (And, trust me people… I've been there!)  When financial NEED creeps into your sales conversations, those conversations are doomed.  No recovery.  None.  Just pack up and go home.  And come back when you're feeling less desperate and needy.  P.S. The key to not burdening any ONE particular client relationship with unnecessary financial NEED is to 1- get more clients and 2- have more than enough prospective clients in the pipeline…. Two very WORTHY goals that are fairly simple (but not easy) to accomplish. I help my clients do this every. single. day.  Need this? Contact me.
And you should not NEED them emotionally.

Now, this is a far more complex and difficult problem to solve. And I see this everyday too.  Business owners — bright, driven, accomplished, seasoned, and friggin' amazing business owners — who, being needy emotionally, will accept ATTAGIRLS all day long over Cha-Chings in their business.
They'll seek out affirmation and friendship and "rockstars" to admire.  They'll pursue compliments and admiration and anyone who will make them feel great about themselves. (Which, by the way, they should be feeling already!)
And, in the business world, they'll lose.  They'll be taken advantage of and have a SLEW of people in the pipeline but no deals to speak of.  They'll promise the world, give too much and then resent it. And they'll — eventually, if nothing changes — seek the security of a j-o-b again.  These people tend not  to hire coaches.  They do not want a mirror.  And this suits me just fine.  =)
Because this emotional neediness is a MUCH harder issue to solve.
Two final thoughts: 
1) If you find yourself resonating with this picture of the "emotionally needy," and wondering if I'm talking about you, maybe I am and maybe I'm not. =) MORE THAN LIKELY you're — like me and all of my most successful clients — simply having a temporary "confidence chasm."  Don't despair.  We all have them and it doesn't mean ANYTHING except that you're human.  So, if you're HERE, before your next sales meeting, DECIDE what you're after. Draw in those boundaries.  Don't roll over gratefully when the belly of your ego is being stroked! =)  Stand tall.  REMEMBER what you're there for.  It's a business exchange.
2) NOT ONLY do you not want to be emotionally or financially NEEDY when it comes to your clients, avoid — like the black plague —  entering business partnerships when you're feeling NEEDY as well.  Nothing good could possibly come from it.
And that's all folks! Thanks for giving me a reason to look back at my wedding pictures. Good times!