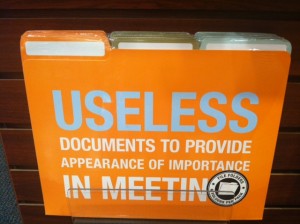 I saw this at Barnes & Noble and HAD to pick it up…. It struck me funny, but it also reminded me of this one woman I spoke to a long time ago… and an age-old (and dead wrong) theory about business success.
So, first… the woman. I was talking to her about how she'd LITERALLY not made a DIME in her business in over three years. 3 years.  Zero dollars.  I suggested a bunch of immediate action items that would make money for her. (After all, I sort of thought that was why she called me. Right?)
Anyway, every one of the things I suggested (of course) required her to sell something.  Because, not to overstate the obvious, but that IS how we as business owners MAKE MONEY. This is what she said,
"But you don't understand. Everyone THINKS I'm making a bunch of money.  I've done a great job of LOOKING really successful."
She was living what I call the "husband-funded life."  And obviously, she was MORE committed to LOOKING successful than doing what it takes to BE successful.  And, trust me, she is NOT alone.  She was actually doing business by one of the oldest and most damaging business theories still prevalent: "Fake it 'till you make it!" 
So, I have to ask,
What are you pursuing today, this week or this year?
Is it the APPEARANCE of something (peace, wealth, abundance, marital bliss, or success)?  Or is it the "something" itself?  For the record, I highly recommend the latter.  The former has ZERO value.  None.  Nada. Zilch.
Now, let's do this thing. For REAL.  Because we should.  And because we CAN.  As always, I'm rooting for you!  xox
7 Responses to "What Are YOU Pursuing?"