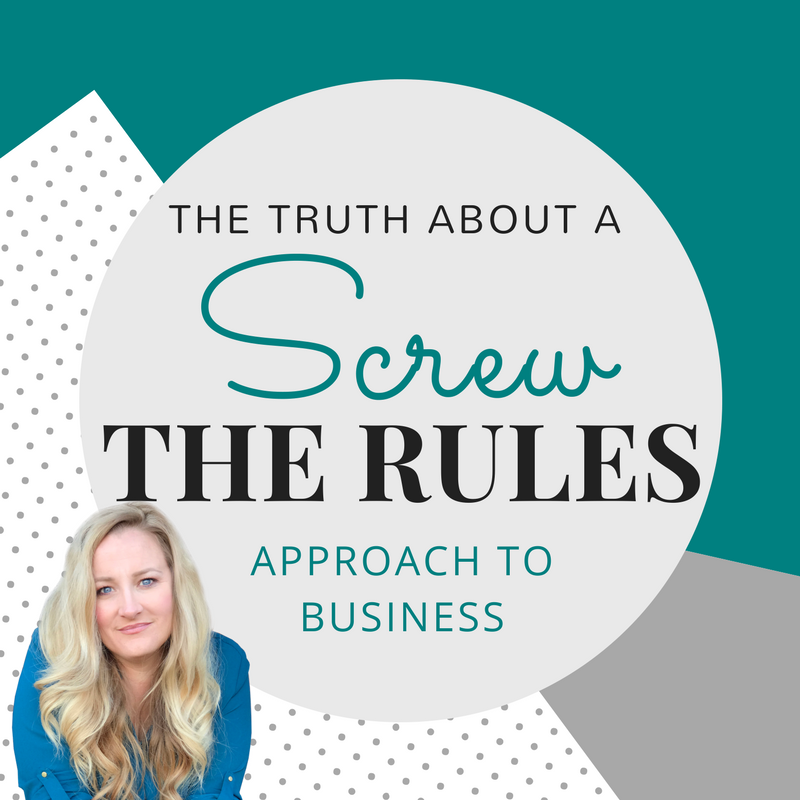 "SCREW THE RULES IN BUSINESS" COULD BE THE RECIPE FOR WILD SUCCESS… OR IT COULD BE A RECIPE FOR UNPRECEDENTED DISASTER.
it's what YOU add to the equation that will determine which way the "screw the rules" approach goes for you.
I started writing — and speaking — about how MOST EVERYTHING accepted by the masses as true about business is WRONG nearly TWO DECADES ago. (18 years… time flies.)
Back then, I stood (nearly) alone.
I didn't say any of this to be an attention whore. I said it because back then I didn't have the money to follow the business rules. I didn't have the $300 to join the Chamber or buy a Shopper ad. I didn't have the money to join NAWBO or even the $19 to attend a NAWBO dinner. I didn't have a babysitter to go and "network," the money to hire a coach.
Back then, all of the emerging business "gurus" had three things in common:
1) a mansion on the beach (or at least a PICTURE of a mansion on the beach),
2) a book or digital product, and OF COURSE,
3) a set of finite "rules… a SYSTEM… which was "fill in the blank" easy and would work for absolutely ANYONE, because — of course — it was built on all of these finite rules.
Well, I didn't have the money. I didn't have the babysitter. And I also — perhaps more importantly — didn't have the stomach for MUCH of what the "rules" told me I had to do. The networking, the cold calling, the line-memorizing. Ugg.
So, I decided that — because I had NO plan B and HAD to succeed — I would have to succeed "my own way." In fact, my very first product was called, "Work Your Own Way."
Today, I am part of a growing chorus of "gurus" chanting some version of the now-popular "SCREW THE RULES" mantra. It appears that a consistent 80% failure rate of small business has finally led a lot of people to assume — or accept — that maybe the rules aren't that effective.
But, will this "anarchist" approach to business work for YOU??? It depends.
It will ONLY work when you are FREE to work your own way, but DISCIPLINED enough to make it work.
ONLY THE DISCIPLINED ARE FREE.
Look around you. Look at those who are "screwing the rules" but (really) succeeding. You'll notice something they MAY not say publicly…. we are VERY self-disciplined. We show up every day. We have routines around our work that DO NOT GET SCREWED WITH. We are disciplined in our messaging, our rhythms, how we choose clients, how we fire clients, how we plan our days, how we do EVERYTHING. We may show up "on our own terms," but we DO show up, routinely, predictably, consistently… because, well….
ONLY THE DISCIPLINED ARE FREE.
No Rules + No Discipline = Disaster.
No Rules + Self-Discipline = Wild Success.
So, here's the REAL question: Where do you need to be more disciplined in your work? your patterns? your marketing?