Doors to The Women Who WOW mastermind 
Will CLOSE  on 
 Monday at NOON EST. 
 Women Who WOW is THE place where seriously driven women entrepreneurs come for the
strategy, support and accountability

necessary to create "unreasonable" increases in business…
all on their own terms.

Beginning in 2013, we grew this alliance of women business owners by PRINT INVITE ONLY for 18 months… Just to create a culture that would ATTRACT seriously driven women, and REPEL those who were just "playing business."  Because YOU — like all of us, now with members in all 50 states— need a tribe that really gets it, gets YOU.

You are ruthlessly driven.
You don't apologize for being successful, and you're always striving for MORE.
More income, more impact, more influence.

You're "irritated" when events / luncheons / conferences assume you have no confidence or need to be told how to "dress for success." Yuck.

You are a breadwinner, a rain maker, and LOVE the business you're in…
because it's purposeful, practical and aligned with your passion.

AND YOU ARE DONE PLAYING SMALL. 
done compromising…
done taking one step forward and 2 steps back…
done watching others steal your thunder, wondering why "It" isn't happening for you…
done chasing clients…

done trading hours for dollars.

AND YOU ARE READY.

Ready to step onto your own, unique stage, and fully own it.
Ready to earn what you DESERVE.
Ready to be treated with respect by your prospects, PURSUED by them, even.
Ready to be in demand.
Ready to take your business to new levels of profit, prestige and freedom.

Not just money freedom. But EVERY kind of freedom.

Freedom to work — and take off — when you want.
Freedom to make the rules of your business.
Freedom to turn down — or fire– clients when you want.
Freedom to NO LONGER posture, pander and pontificate to earn your next client.
Freedom to show up with reckless authenticity in your work.
Freedom to say who, to say when, to say how much.
=)
In other words, ULTIMATE freedom.
IF THIS IS YOU, well….
Welcome to the Women Who WOW mastermind! 
Now with members in all 50 states and a handful of "other" countries,  WOW is  THE place to go for seriously driven women who refuse to compromise on their core values and who demand ruthless authenticity from themselves, and from their clients… and who are determined to custom-create SUCCESS on their own terms.
Women who WOW was created for the seriously driven #bosslady who won't — and would never — settle  for "business as usual…"
the feckless "hustle"
The feast & famine
Having no time, and no life.
Living with the constant adrenaline rush of what's due and what's next.
Women Who WOW rewrites the "business rules" to suit US.
Because, maybe…. there were NEVER any business rules to begin with.
And if there were…. this "business as usual" approach to "success…"
Well, statistics tell us that it leads to an 80% FAILURE rate.
If that's not argument enough to stay away from any and everything "business as usual," well… you certainly don't belong here.
Because we're that top 20%….
the women in business succeeding…
And not just succeeding financially…
But succeeding ON OUR OWN TERMS…
ACTIVELY pruning our businesses to meet our EXACT preferences…
Just because we can.
SO, WHAT'S INCLUDED in membership?
First, none of the "usual" crap.
None of the "invite an expert" (who's trying to sell you something) in for a virtual webinar, on which you have the privilege of spending money, so that I get an affiliate commission.  (Yuck.)
NONE of the hype, the B.S., the twice-warmed-over doses of mediocrity.
Instead, we serve up FRESH — DAILY–  support, strategy, clarity, and encouragement for creating the success you want, on your own terms.
Twice Weekly WOW private live streams;
LIVE member Q&A;
Monthly deep dive trainings;
Monthly newsletters designed to be a "conference in an envelope"
Regular mindset "stuff"  to build your MENTAL TOUGHNESS;
DAILY "shots of entrepreneurial espresso" designed to encourage, empower and EQUIP you for wild success;
WEEKLY Hustle Challenges to keep your business moving forward;
An Incredible and GROWING On-Demand Resource Library of RIGHT HERE, RIGHT NOW trainings, when you need them.  (Keep scrolling down to see what's already waiting on you in our resource library!)
But that's not all… the BEST part of membership is our high-touch approach: 
A thriving, incredibly LOYAL, driven, authentic and supportive community of women entrepreneurs who actually WANT each other to succeed.  (I know this sounds bias… but I think we're the best.   We love our business, and we love each other.  No fake rah-rah noise.  We don't PITCH, we PITCH IN.  That's the truth.)
TWICE MONTHLY 1:1 laser coaching sessions with ME.
MONTHLY e-coaching for whatever is top of mind for you.
SO WHAT'S IN OUR RESOURCE LIBRARY ALREADY?
A lot, but here's an incomplete list:
WOW monthly newsletters dating all the way back to 2014.
Michelle's signature Rapid Results program;
How to Stand Out On- and Off- Line
TIME: How to Fit It All In
Building DEMAND for Your Work & DEPENDENCY  From Your Market
Lead Generation for Experts
Planning How to Blog for BUCKS
How & Why To Use Events to Catapult Your Business
How & Why to Sell EVERYday (And feel GREAT About it)
Blogging for Business in 2017
Creating Your Signature Product, Offer, or Program
How To Know What Your Market Wants
How To Plan for a New Year
Do you know that Women Who WOW is for you?  GREAT.  I want to formally invite you to join us… to make it official… and to get to know YOUR TRIBE… THE international alliance of seriously driven women entrepreneurs who REFUSE to SETTLE and DEMAND to SUCCEED on their own terms. 
Join.
Now, obviously.  =)
Because we'll close the doors  on Monday, May 1st at NOON.


The Women Who WOW Mastermind breaks down to $37 / month for ALL OF THIS listed above, and so much more…   BUT, you need to join now.  We're closing the doors in just a few hours, and when we re-open (I'm thinking in June) the cost will be more than DOUBLE what it is now. By joining now, you're grandfathered in at the $37/month rate… forever.

HAVE QUESTIONS?  MAYBE THIS WILL ANSWER THEM FOR YOU… 
When will all of this start?  Well, right away… as soon as you join, you'll be emailed a log in email that will allow you to get behind the scenes of our member site and dIG IN.
How Often Will I Get More Trainings? Well, at LEAST twice a week, but in addition to that, take a look at our calendar… for ongoing training times.   Here are some additional trainings coming up:
How to Integrate — NOT Balance — ALL of Your Priorities (Business, Body, Family, Marriage, Kids, Social)
How to Create Demand and Be PAID as a Thought Leader
FIFTEEN MINUTE SUCCESS: Daily "Success" Rituals To Consider
HOW TO SAY IT….  An ongoing "program" within WOW that will deal with "touchy subjects" where you wonder, "How can I tell them ______?"
How do deal with haters, pushback and people "spitting on your dream."
How to Plan & Fill Your Next Program or Event
How to Create a MUCH NEEDED Cash Infusion in Your Business, starting RIGHT NOW.
How to Show Up & Sell (And Feel GREAT About It.)
Making the MOST of Your Time on Facebook. (Hint: this is NOT a social media training… it's a behavior and HABIT training.)
EASY Ways to Write Sales Copy… Sales pages, Invite language, and more!
The Architecture of a Sales Proposals that Nearly ALWAYS Gets the YES!
Hot, Hot, Hot:  Keeping Your Business HOT with Fresh Content (How to Create so Much of It)
The Anatomy of a BEST DAY EVER in Your Business (And How to Create Exactly This as Your New Norm.)
How To Go From $60K per year to multiple Six Figures
How To Make YOUR Message — and your daily messaging — ON POINT, POWERFUL, and PROFITABLE.
How To Launch, anything.
Developing a TRUE, UNSHAKEABLE Confidence
Designing Your Perfect Offer
Productivity and Profit — Free, Easy Tools
Building Your Own Mental Toughness, So you KNOW How To Turn Any Adversity into Opportunity
Do you give any refunds? Nope.   First, I think you're gonna love it here.  But, when you join, you have access to all of our resource library, all of our trainings, our past programs (worth and SOLD FOR Thousands of Dollars) immediately available.   Like any digital program, there's nothing to mail back… nothing to "return," so there's no refunds.
Our members are very decisive women.  But, if YOU'RE undecided or already thinking about a refund… before you even "get in," we may NOT be for you.  HOWEVER,  you can wait until we open our doors this summer, and we'll have a MONTHLY option of about $97 per month…and you can choose to join for one month and then pay as you go from there.  (Some of our resource library will not be available for monthly members, but the bulk of it will.)
So, are you in, do you think? Is creating business ON YOUR TERMS, living life according to YOUR priorities WORTH it to you?  Are you READY? Do you believe it's possible?
If so, join now.

If not, keep reading.  =)
Who Is This Michelle Pippin and WHO Does She Think She Is?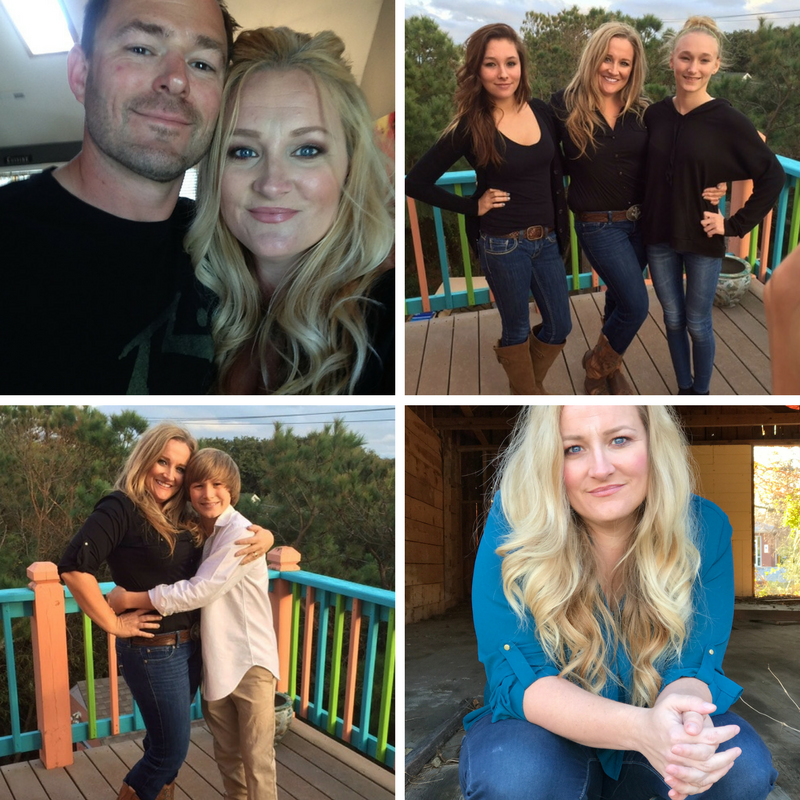 Well, I'm just a girl…. who fell in love with entrepreneurship and built a life and an income I never  even dreamed possible.
I've always known WEALTH was possible… I've always known that RICHES were possible.  (Not that I ever experienced it… but never struggled believing it was POSSIBLE.)
But always believing that  success would COST ME.  =( Do you see the pictures of me….my girls… my son… and my Mister?
Well, they come before YOU.
Before this business.
Before any client.
And when I thought about really "going all in" and creating some HUGE income that I knew was possible, I'd think….
IS IT WORTH IT?
And every time, I'd come up with the same answer: HELL TO THE NO.
And so, I'd keep going… running an exciting business, a flexible business.  Creating an impressive income.  But knowing that I was CAPABLE of so much more. Knowing I was BORN for more… that I was selling myself, and my business short.
One day, I woke up to something.  If 80% of businesses fail and they're all sort of following the same RULES and believing the same JUNK, maybe I can just create EXACTLY WHAT I WANT, EXACTLY ON MY OWN TERMS, ignoring all of the rules. 
Maybe I could let my FAITH flag fly without apology.
Maybe I could design my days for more LEVERAGE and income, while protecting my family time, my marriage time, my sense of calm and everything that mattered most.
Maybe I could dress how I want (jeans), use my own country-fied farming analogies, just be ME… and succeed WILDLY.
Maybe  WILD SUCCESS for my business could actually STRENGTHEN my home, my relationships, my marriage.
Maybe I didn't have to sell my soul to live my BEST DREAM.
Just maybe… MAYBE.. I could do it on my own terms.
And so I did.
And I have.
And it turns out…. most people are wrong. Not only is it POSSIBLE to do business YOUR WAY and become more profitable than ever before, it's actually EASIER and MORE FUN to do it this way.
And those statistics about 80% of businesses failing in the first 5 years?
Well, that's wrong too.
There are a TON of businesses making 7 figures a year… 
looking successful…
banking a great deal of profit… 
But watching their marriage crumble;
Missing too many "can't miss" parenting moments;
Feeling frazzled, harried, rushed and behind all the time.
And feeling ankle chained to a success they HATE.  
I've learned FIRST HAND that you do not have to acquiesce to this sort of "success," because in my book…. that's not success at all.
I say all of this to remind you:
You can AND SHOULD go for the gold in your business,
And NEVER (EVER) compromise on your core values.
You can do this, because I did… and because I'm the UNLIKELIEST OF BUSINESS LEADERS.
I don't look the part.
I don't hang with the "right" people.
I don't coach with the right coaches.
I'm a homebody.
I'm a woman of faith, a wife and a mother FIRST.
I live in a small town and don't love to travel.
I've NEVER gone to network meetings.
I'm just a girl who decided that MEDIOCRE, "I'll have what she's having," AVERAGE business just wasn't going to cut it.  I knew I was born and bred for MORE.
And with Women Who WOW, I learned that there were others like me.  Who knew?
So, this is your invite.
Join us.
Or not… =) But don't click away indecisive.  RIGHT NOW, you know if this is calling out to you or not.  You know it already.  And if so, you need to be part of us.  So, JOIN and then hop on over into our Facebook group and introduce yourself.   It'll be an honor to have you!