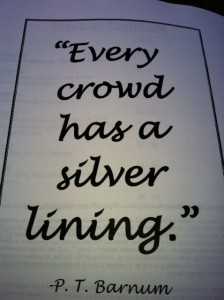 When I started having my own events about six years ago, VERY FEW "experts" were attempting this feat.  My own mentor at the time challenged me to fill my own room, something he called a "master accomplishment."  I did, and it was.
But today, I see a bunch of events being promoted, and it seems to be the topic du jour when people reach out to me for coaching or strategy work.  I recently worked with a woman who admitted to losing $26K on her first event, and — to credit her own courage — she's going for it again.  I have another former client who is planning her first event and seeing scary results in terms of ticket sales. Thing is?  She's super passionate and committed to filling this thing.  And I know she will. But she plans to use some "PR and Advertising" to help her out.  (A costly and bad way for her to go. I hope she changes her mind!)  I was approached by another potential client who was referred to me for help.  She had to cancel her two previous events due to NO ticket sales, but had just decided to put on a — gASP — national TOUR of events.  (WHAT?!?)   And two of the three copy projects I'm working on center on what I refer to as "PUTTING BUTTS IN SEATS." So, this is sort of where I'm living right now.
A master accomplishment? You bet.  Filling your own events DEMANDS a level of hustle and clarity and boldness that you've probably never had to reach before.  It is NOT for the faint of heart.  And it is NOT for the person hoping to "do this on their own" without the guidance of someone who's filling their own events PROFITABLY. There's just too large of a learning curve, and — more often than not —  too much of your own money at stake.
BUT, is your own event (small or large) a worthy pursuit?  YOU BET IT IS! There's nothing like it.  For those of you asking me questions about this, tentatively feeling out the landscape, and hustling to fill the event you've already planned, here are some tips:
1) Do NOT under-estimate what it will take to pull this off. You'll be surprised, so plan accordingly.  Be ready to throw yourself into the task. Block off your schedule, so you can work this plan!
2) Do not OVER-estimate how many people you'll be able to bring to this event.  Even some of those who offer you constant atta-girls and encouragement  will find an excuse not to attend. (Oh– and that excuse will be "bad timing"…. for some reason they just CANT make the event on that DATE. More on that coming up next: )
3) Don't overlook the SELLING challenge.  I'm amazed at the people who struggle to sell one -on -one services who think they'll fill an event.  You have to realize that with an event, you have a BUILT IN EXCUSE:  timing.  See, you have to publish a DATE for your event.  So, anyone who doesn't want to pay, or doesn't really think it's a great event, or WHATEVER will use "timing" as their go to regret.  And, let's face it… what can you do with that?  Call them a liar?   PREPARE for this in advance, and work STRONG take away language into your sales copy, so people will think long and hard about attending.
Not comfortable selling?   Forget the event path… it's not for you!
4) Don't even start until you have a very very strong and clear target market and an even stronger list of what each participant will TAKE from your event. No room for error with this mandate.  You MUST have BOTH.  And your market must be very very hungry for what you're giving them at the event.  One (the take away) must be a perfect fit for the other (the market).
5) Finally, forget social media and mass marketing for this.  PERSONAL INVITES is the way to go — You'll resort to it ANYWAY when you see no tickets being sold, so you might as well do yourself a favor and START with this personal invite strategy. You won't regret it.
Have additional questions, email me at michelle@bmichellepippin.com.  Tell me what you're up to and what challenges you're facing… I'd love to help !
5 Responses to "DANGER ZONE: Filling Your Own Events"