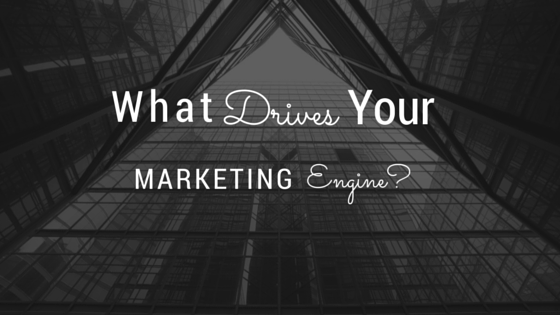 People often want me to design / choreograph a marketing and/or sales plan for their business or for a specific launch or brand re-vamp.   The first step I take with them is to help them determine WHAT HAS BEEN DRIVING their marketing engine and — then — what SHOULD be driving their marketing engine.  If you are AT ALL disappointed with the numbers in your business, this article is a great place to start.
You can often look at a company's paid advertising and see what's driving their marketing plan.  For many, they're paying to "get their name out there."  Essentially, AWARENESS is driving their marketing engine.  Their commercials or ads have no call to action.   They let the viewer or reader know the company exists and — maybe — how to find them.
As an aside, AWARENESS as a marketing objective is the most expensive and LEAST profit-producing of all possible options.   Because, let's face it, it is NOT all about getting your name "out there."  It REALLY IS about getting your clients IN HERE, in your door, where YOU get paid.   Moving on.
But most of the time, a company's owner and / or marketing manager DOESN'T KNOW what is driving their marketing engine.  They are pitched different options (from the local paper, local tv station, online digital marketing agency, a website firm, an SEO expert, and more) and then they sort of choose a few things they can afford.
So, what's driving their marketing engine is this need to do SOMETHING to drive business. Throwing (expensive) spaghetti at the wall and then seeing what sticks. (Quick note, if you're paying for advertising, you've  got to read this before you spend another red penny.)
This approach is much like buying a heap of 2x4s, two expensive doors, some roofing shingles, a bit of flooring and insulation and thinking it will miraculously turn into a house.   THERE MUST BE  A PLAN.  THERE MUST BE SOME EXPERTISE applied to the use of these tools, if they are to be of any use to you at all.  Otherwise you WILL waste time, money and energy… and the end result will be a far cry from the results you were hoping for.
The same is true in business marketing.  You can have the best commercial EVER created, by an award winning agency, and have it shown on the most watched show on television. But in order for it to be profitable, you MUST have created it with proper STRATEGY…. strategy not JUST for the advertisement itself, but — equally important — also taking into account the following questions:
What do we want them to DO after reading this ad / seeing this commercial, AND what's "in it for them" if they take this step? 
What will happen — on our end — when they take this step? What will they hear? What will we send them? 
What will happen NEXT? How will we nurture them from lead to prospect to client / patient?
This is just a thumbnail sketch of course, but a great place to begin.
Bottom line is this:  STRATEGY should drive your marketing engine.  NOT hope, NOT hype, NOT assumption, NOT awareness, NOT copy-catting.  STRATEGY.