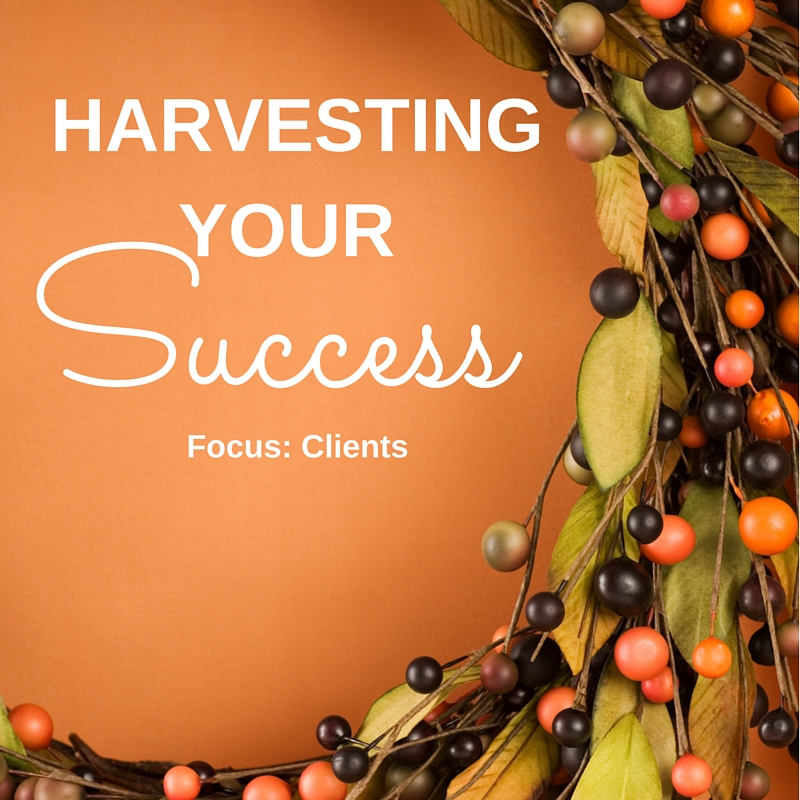 I've spoken extensively around the country about a topic I coined, "Muscle Marketing."  You see, I had to market with muscle because I was in no position to market with money.  I quickly found that the HINGE that swings all marketing doors — no matter your budget —  is knowing your market INTIMATELY.
She who knows her market MOST intimately… wins. It's as simple as that.
There's an Alabama song with the lyrics, "I've got a hundred years of down home running through my blood… I was born country, and this country's what I love."
Well, let me be honest and brag for a minute:  I've got a lot more than just a hundred years of down home running through my blood. =)  And here's what I've inherited… an unshakeable confidence in what I know through personal experience.
The best farmer's aren't lucky and they don't plant EVERYTHING.  They know THEIR crop, and plant that.  The best hunters aren't lucky.  They study THEIR prey and know their land.  The best fisherman aren't lucky.  They learn all they can about the specific fish they're fishing for and the waters in which they fish.
The same is true of business owners.  The more you know about your market, the more profitable you'll be.    Because I've written about this so extensively in the past, I won't re-invent the wheel.   Instead, your assignment is two-fold.
Read this; and
Complete the Client Cultivation plan for your ideal target market.  (If you're new to me, Download your copy by clicking the button below… Existing WOW members, this was already sent to you… just check your email box.)
Click Here to Download Your Own Client Cultivation Worksheet / Template.
For creative inspiration, I've included my example below… specific to my target of women business owners for WOW membership:
TARGET:  Discerning Women Business Owners
Ideal for Women Who WOW membership
SUMMARY:  WOW has been around for a couple of years now, and we've outgrown the "best kept secret" category of business resources.  Due to our deliberately exclusive nature, we must still define what sort of business owner, what industry benefits MOST from WOW mastermind and membership. WHO is WOW really for?
We're not industry- or age- specific.  We don't discriminate along the lines of age, race, religion, sexual preference or political affiliation.  In those ways, WOW is — in fact — a melting pot.  We've got coaches, experts, physicians, veterinarians, attorneys, authors, financial gurus, and more in our midst.  We've got some city folk and a few country bumpkins… and a lot  of "in betweens!"  Some of us are mothers, wives and grandmothers.  But not all.
What unites us… what makes "us" US and everyone else "them" is our attitude.  We're unapologetically driven.  We're supportive of each other in a way you don't find many places. We're authentic and profit driven.  We're undeniably determined and goal-oriented.  And, we don't care so much what "they" think.  We're not "in business together" but make no mistake, we are a TEAM.  We think, live, act and do business very much outside the box.  We zig when they zag.   We do while they dream.
WOW members are determined and defiant.  They are out to be the BEST.  They do not mince words about their motivation.  We are ruthlessly loyal to those who are loyal to us.  Trust grows slowly for us, but our roots and relationships are deep.
LOCATION:  Women who WOW are — frankly — a bit of a lonely bunch… until we found each other.  We don't quite fit in to other networking options, which we find tedious and frustrating.  We are leaders in our industry, and so we do not want to hang around those who are less motivated, less determined than ourselves.  We are looking for a true group of our peers, and — before finding wow– many have all but "given up" on finding this group.  We read business magazines like Entrepreneur and Fast Company, and seek out other less known "gems" for business and / or our industry.  We are most likely inactive (or irregularly active) in groups like NAWBO or NAPW.  We're more likely to be found in smaller more exclusive environments.   Future women who WOW members will likely be found — as they have in the past — by referrals from other members and through my own speaking at various events around the country and online.
TIMING, Part One:  The end of a calendar year is when WOW members — like all business owners — are doing a bunch of planning, but we've got our eye on business development all year long.   Great timing is when they're already investing in business development.  They're getting a new website, attending an event, or buying some commercial space.
TIMING, Part Two:    WOW members — unlike my private clients — are a quicker sales cycle due to membership pricing being so reasonable.   I do not see a reason to DELAY membership sales as a strategy. However, most of these women aren't jumping at the chance to join another membership — as I wouldn't be — so including membership on the back end of a digital product or live event is likely the BEST way to introduce the value of membership to them.   The sales cycle is two-ways, since our group is exclusive.  Our members –and core guiding members — know immediately if someone is a fit.  We want them to have an equally quick "YES" to us.
PROPER CARE & FEEDING of YOUR TARGET:    They need to know that what they'll get from me is unequivocally different than what they'll get anywhere else.  They need to know that we're not courting the masses and that we're deliberate about our "member roster."  They need to know that I "get" business and can help them move the needle in their own.   They need to feel like they've "found their home" with us.   They also need opportunity to demonstrate their expertise.
PROTECTING YOUR TARGET FROM PESTS and PROFIT ROBBERS:   Natural pests for WOW members is the growing number of free and awkward and ineffective networking options already out there. IN fact, the key thing I need to show in sales is that membership is a mastermind opportunity, not simply a place to network. The TOP pest is the fact that these women are already busy and successful… so taking time out for the group is something I have to continue to build value in.  Gifts are great, as our sponsor gifts are second to none, but constantly working to build more value into the group itself, our meetings, our trainings, etc. is what I'm focusing on for the remainder of 2015 and 2016.  Selling is one thing.  Keeping the value as high level as our members and keeping these members engaged is my top focus moving forward, as it is where the future profit and leverage and success of this group will be found.