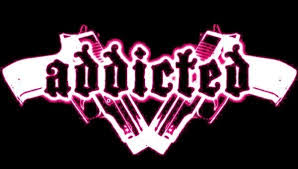 My world's been a BIT topsy turvy lately, and I've had cause to think about "issues" and "stuff" that had previously — thankfully — not been a part of my "thought repertoire."
All of my "mess" led me to this blog post, about ADDICTION…. to social media. I've heard facebook referred to as "face-crack" and other jokes regarding how "addictive" these social media outlets are…. and I see countless hours (and dollars) spent on this "business-owner addiction of choice."
But here's the deal.  The addiction isn't to social media. Steve Chandler says it best,
The real addiction is not to social media or the Internet, or to tweets and texts and emails. The real addiction is to getting other people to LIKE me, and to approve of me.
Now, I'm a fan of social media — when it's used appropriately and held accountable for producing a specific, measurable result in your business.  But addiction??? Specifically a social addiction, where I — as a grown a$$ woman — am reduced to counting "likes" and clamoring for approval?  Um… not so much.  No time.  And even less than zero interest.  Yuck.
So, what's the solution?   Where's the profitable middle ground here?  
Purpose.
A life / business / day led by purpose is the OPPOSITE of one driven by addiction — of any kind.  So, what is your PURPOSE on social media?
Be honest with yourself.  Is it emotional and ego-driven?  Do you go to facebook or twitter as some sort of boost or distraction?  If so, you're moving AWAY from purpose and TOWARD a social media "addiction." But, is your purpose MEASURABLE, WELL DEFINED, and UNEMOTIONAL?  Now, you're doing social media "on purpose."
What are your thoughts on this?  Read below. I'm gonna ask a few social media gurus to comment here — to share their thoughts on THESE TWO QUESTIONS:
1) What is the BEST thing social media can do for your business?  and
2) Where do most business owners go off course when it comes to social media?
I'd love to hear your thoughts as well! =)
Below you'll find a quick picture of a piece of paper I came across today, while following Amy Volk's advice on dealing with my little "paper pile problem."  This letter is almost two years old, and I have no idea how it has been saved for so long.  It was written at the tail end of my kid's school year and at the tail end of a travel schedule that I was none too sad to see come to an end.  While this has some personal "stuff" in it, it shows my heart.. which is why I'm sharing it.
The heart of a woman, wife, mother and entrepreneur wrestling with conflicting demands.  The heart of a business owner being run by their own business, vs RUNNING their own business. The heart of a woman who refuses to settle.  The heart of a woman determined to CARVE her own path, according to her own preferences, and according to her own rules.
When I wrote this letter to my family, it was in the very early morning hours. My bags were packed and my heart was heavy.
But, I was decided.
I knew that I'd already drawn my own line in the sand — even if that line had not been made "public" yet.  And I knew that I'd get back to the SIMPLICITY that made my business enjoyable and profitable in years past — but I admit, I had some uncertainty and even some insecurity around just EXACTLY how I'd make that happen.  In this moment, there was more unknown than known, but my decision has already been made.  And decision is always the first step.
Always.
My decision:  I'd steer this ship from now on… and — my business would be built around my own lifestyle preferences. Here's the simple, heartfelt note I left on my kitchen counter that morning.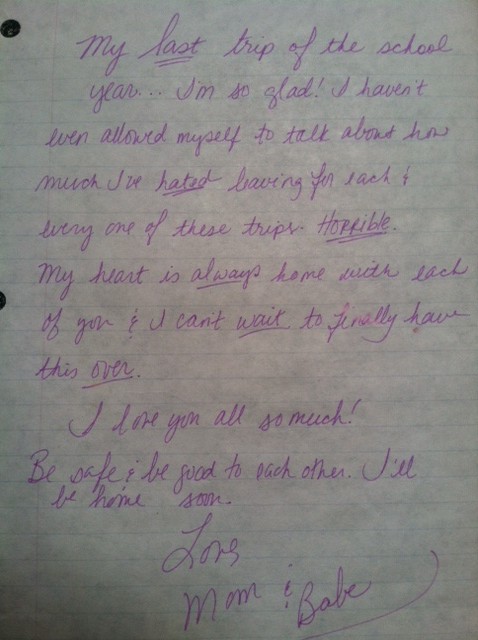 Since that day, I've traveled away from family only a (very) small handful of times.  And, I've had 11 very profitable events right here in Chesapeake, Virginia with clients traveling from as far away as California, Canada, New York, Kentucky, Illinois, Indiana, Texas, Massachusetts, and more…  And one charity event, which I was very happy to host.
To get here, I had to let go of what WAS and LEAP towards what I really wanted. This wasn't easy for me — and if  you've built a "success" you don't like, it won't be easy for you either. Would you be willing to — below — EITHER write your own heartfelt letter of decision, or share a story of a time when you deliberately walked away from one thing to pursue a more deliberate business for yourself?
And how can I help you DECIDE and SUCCEED in this?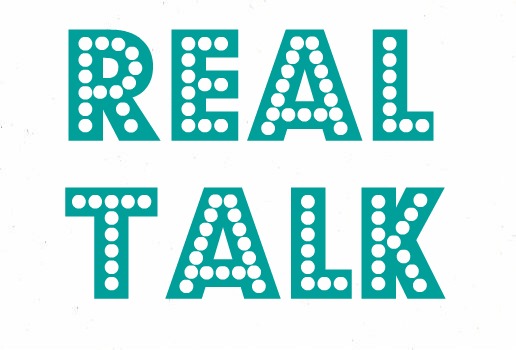 The business world — every networking event, blog, speaking gig, and sales page — seems to be brimming with optimism…   And there's a lot to be optimistic about. The economy — frankly — isn't changing MUCH.. but CONSUMERS are, which means good things for us as self-bossers.  My clients are making more money, more consistently than I ever remember in the past. And so am I.
We also have our freedom… to take off for the day, to work outside with the sun on our face or to spend the day on the beach and work at night. BECAUSE of this freedom, I'm what I refer to as woefully unemployable.
In many ways, our chosen endeavors as business owners are enviable.
But not in every way.
I know that my success is intimately entangled with my willingness to be REAL with you… not to candy coat my own struggles, failures or near misses in an ego-driven effort to "stand at the helm" as a perfect example. And, not to gloss over yours, if shining a light on what is WRONG will point you in the direction you want to go.
My clients and, dare I say, "fans"  TRUST me to be honest with them.   It is in this spirit that I write today's post and IMPLORE you to join me. Not because I've ever lied to you.  I haven't.  But because I want to be MORE real. I pray my own "trade off" examples below encourage  and empower you.  And I would love for you to post your own "trade offs" to encourage and empower others.
This isn't a "b*tch fest" or pity party… I'm proud of where I am and love the life I've created — even when it gets tough.  Instead this thread is designed to be a simple  acknowledgement and reminder that ALL OF US make choices each and every day.
My goal — for you and for me —  is always to make them deliberately. Life and Business are full of trade-offs, like these:
Years ago, I promised that I'd never color my own hair again. (I went too many years not being able to afford pricey trips to the salon.) This morning, one day out from an event, I colored my own roots.  With Clairol dark blonde in a box bought from a local Target store. Because, NOW, while I have the money…. I ran out of time. =) Fortunately, it turned out pretty well.  Trade-off. 
Speaking of my hair…. I had to color it because of the abundance of GREYS shining through.  I'm bolder as well as more confident, experienced and knowledgable than I was in my early 20′s.  But I have forehead wrinkles and more greys. Trade-off.
I work harder today than I ever did working for someone else.  But, I get to work on my own terms, and determine my own pay. Trade-off.
My kids now go to the bathroom, take baths, brush their teeth, tie their shoes, get dressed and more by themselves. But, now… we've got "boyfriend" issues, "friends" who are sometimes hurtful, insane projects to create, and about 10 practices a week for various kids in various sports. All of which my kids need my help with.  Trade-off.
My mind is heavier with longer to do lists and worries that never occurred to me when I was "younger" — working a regular "j-o-b" and without kids.  But, my heart is also "heavier" — full of a love and passion for home and work that never existed before. Trade-off.
To create consistent and leveraged income (through groups, membership gyms, etc.) I had to give up some of my "freedom" schedule-wise. Trade-off.
To play BIG, I had to leave the comfort and surety of what was comfortable for me. I had to make tough decisions, leave behind things I was proud of creating, say no to people that were disappointed in my decision to say NO, and more. But, what I got in return was a business that continues to inspire and amaze me and provide –well — for my family. Trade-off.
To effectively manage all that I have going on in my life, I had to learn to ask for and accept help.  This comes with a deliberate release of control… =) a teensy bit difficult for some of us. lol.  Trade-off.
Here's the key: REALIZING that much of life and business is a trade-off… and making these trades with full knowledge and acceptance. The truth is, GLAMOUR magazine was wrong.  We can't have it ALL at the same time. We can have  A LOT at the same time.  We can have / create EXACTLY what we WANT.  But, life — like business — is full of trade-offs.
I'd love it if you'd share one or a few of your own below! Thanks for keeping it real with me! I'm honored to lead this community of business owners intent on achieving MORE … through choice, through effort, and through a dogged determination to succeed! Honored. And, of course, humbled.
Happy Hump Day!
REady for Your Own Field Guide To Financial Success?? ESPECIALLY if you're a Coach / Expert Who's Tried it All?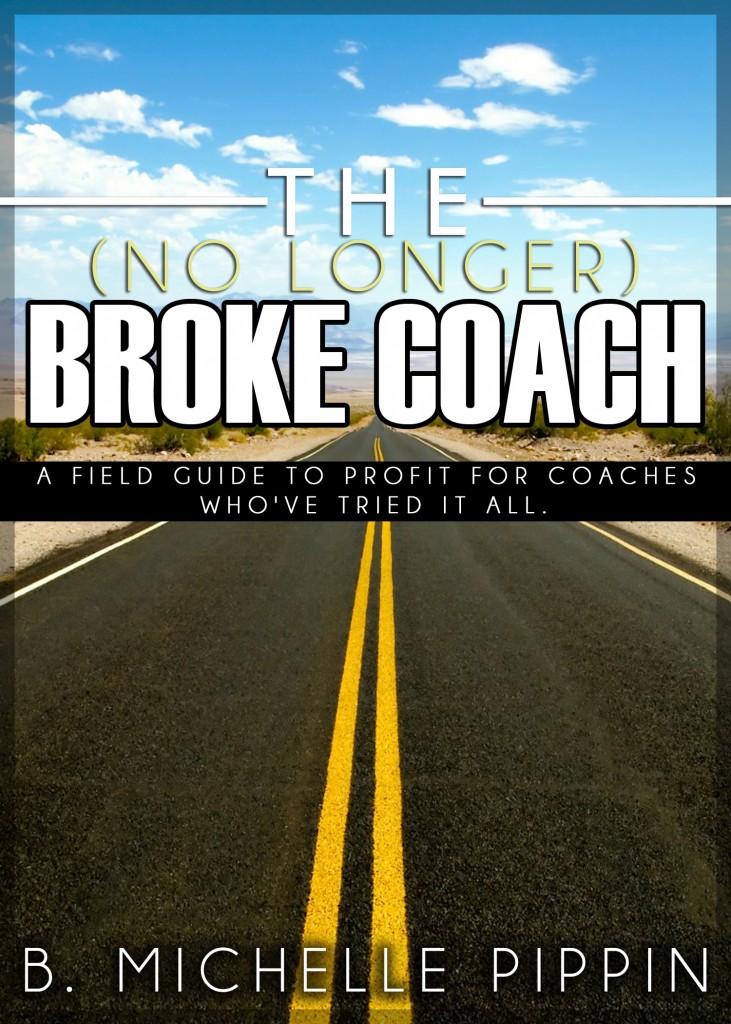 My new book is just for you. Here's more:
This practical Field Guide To Profit provides straight talk on packaging, pricing, promoting and selling your services — far beyond the 1 to 1 coaching services that keeps so many of our colleagues tied to the phone and making far less than they want.
This book does not focus on issues of social good or grandiose ideas. I'm leaving out academic theory that's largely untested and including only strategies that work today. It's a step-by-step manual with a singular focus: helping you carve more cash out of your coaching practice.
It's as crass as that. We're going an inch wide and a mile deep. Because that's where the gold is.
So if PROFIT is what you're after (the CHA-CHING rather than the ATT-A-GIRL/ BOY), you've come to the right place.
Let's get started. There's much to be done.
Book coming soon!!!
My book tour will begin in June 2103. If your coaching chapter or speaker association would like to have me come and speak, don't hesitate to reach out to our Outreach Director, Kerry Hastings at kerry(@) womenwhowow.com.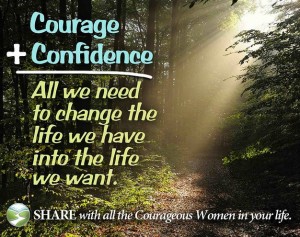 Recently, I got the following "report" from a long time client who — after creating success in her "industry of origin" has made a very profitable transition into the role of consulting. Here's what she said,
"….Everything you have been telling me for months just clicked.

 

I felt that moment of confidence, of standing on my own, of knowing clearly what I want, what I will create for myself and my business, and the only road I have to travel is the one I've been called to and I can do it my way not how others percieve it to be done.  It's kind of like that moment that all the noise fades away and you feel the sunrise within you." 
Now, this report is infinitely better than one that says, "I can't move forward another day because I'm so paralyzed with fear and insecurity."  lol…. But I don't need to hear that something "happened" to make them feel confident.  I don't need my clients to FEEL confident. I need them to consistently take action REGARDLESS of their "emotional temperature" … regardless of how they FEEL in any particular moment.  
I need them to… and I need to MASTER their/my emotions in such a way that they/I have dominion over them.  I need them to be able to leap even when they/I feel crummy. Like a "method actor" who BRINGS FORTH EMOTIONS to be more convincing on stage, the most successful entrepreneurs learn how to dismiss emotions that don't serve them and how to CALL FORTH emotions like confidence.  
In case you were wondering, here is my response to my dear, dear client…. who gave me permission to share this. =) I hope we ALL begin to deliberately craft a confidence muscle.  If you're willing to DECLARE that you're willing to BE confident today — and every day — rather than FEEL confident, say so below in a comment. AND, want some assistance?  Visit my friend Wendy over at www.courage2confidence.com. You'll be in great hands there!
 I'm so glad to hear this.  It's great when our confidence shows up and makes us feel GREAT about moving forward. It's certainly preferable to feel this way ALL THE TIME.  But, let me encourage you with some negativity.  You WON'T feel confident and clear EVERY TIME you need to take action in your business. So, don't expect to.  The KEY is building a confidence MUSCLE.  Something you can FLEX any time  you need to.  An INNER confidence that you can "call forth" even when you're feeling crummy. 

In this paragraph you wrote above, confidence is an emotion and emotions are fleeting.  So, REMEMBER this feeling.  Journal about it.  When you're "feeling" confident, journal about all the EVIDENCE you believe that supports WHY you should be so confident. and keep this journal entry handy.  You'll need it again.  The next time you begin believing you're "not enough" in any way, take out your confidence journal entries.  

The REAL goal is to be able to "call forth" a feeling of confidence even when you're feeling crummy. Let's make this our goal.  Email me the next time you're feeling crummy, so we can put this plan into action. =) 

I'm blessed and grateful to serve and interact with some of the most generous — and brilliant — business owners on the planet.  Just this week, a woman whom I met years ago asked me a question that prompted this blog post. After reading MY personal reflection to the following question, I invite (and implore) you to answer the same. SHARE it here — below as a comment!
What are the three things that changed / moved  your business?
 First of all… Thank you Carole DeLaOsa for the question.  The reason I'm asking EVERYONE to answer it for themselves is because there's strategy in this… When we reflect on WHAT has had the MOST (top three) IMPACT on our business, we're uncovering gems that we can dust off and use again and again.  When you post below, we can all learn from each other!
Here's my TOP THREE business changers:
1) I decided that my original goal in business was holding me back… and upped my intention.
For so long,  my business was designed to create income for my household.  More specifically, my "job" with my business was to "make ends meet" since I'd given up my full time income to raise these kids of mine! =) A couple years later I found myself wondering… WHY AM I NEVER ABLE TO MOVE BEYOND "MAKING ENDS MEET?"  lol… Well, because that's all I EVER intended to do.  THAT was my goal.  So, one day I declared that it wasn't enough.  I decided that I wanted MORE from my business and that I wanted to take this "gig" as far as I could.  THIS changed ME and the energy I brought to my business.  And my business hasn't been the same.
What goals have you set for your business? Do they still FIT?
2) I committed to a coach and mastermind.
I hired Steve Chandler to work with me through his VERY FIRST Coaching Prosperity school. He challenged me to be bold and simple. He — and the rest of the "Phoenix Nine" — kept me accountable.  All of the falsehoods I believed about business were obliterated.  And my business changed for the better… in the MOST MEASURABLE of terms: Cash and Control (of my time and income.)
Who is leading YOU? Who holds you accountable?
3) I firmed up my own boundaries.
More important than a "to do" list, in my opinion,  is a NOT TO DO list. I brought my boundaries in, and made them stronger. There are many things I WON'T do for business. Opportunities I will ALWAYS say NO to.  And Rules / Systems I won't break. Having a prescribed way of "doing business" has helped me leverage my time for maximum income, make decisions with ease, and move through obstacles more quickly. I agonize less and move forward more.
What's on YOUR not to do list?
Can't wait to hear the three things that have changed and shaped your business… =) Comments below!
In a recent interview, Loral Langemeier encouraged business owners to declare, "I'm the best in the world." Of course, only if it's true.  To people who ARE amazing, but refuse to "brag," she says, "Well, stay poor!"  I love that she doesn't mince words.
Just the other day, I heard myself say, "No one knows this industry better than me." The thing is, it's absolutely true. For the "everyday" expert – those without media and fame – intent on leveraged income through events and memberships and more, no one knows this work better than me. No one.
Today, I'm asking you to stand up and declare your OWN brilliance! If you're on my list, your personal invite to do this is on its way.  If you're not yet on our list, you're still welcome to come and "BRAG." The alternative, according to Loral, is to "stay poor." Make your choice.
If you're willing to declare what YOU DO better than anyone else, post it below!  If you're still struggling, see my own comment below.  Because I get it! =)
btw, ALL WEEK, encourage your friends and family and clients to stand up and be counted here… ALL POSTS will be combined into a FREE rolodex of the best of the best — which I'll distribute to my own list!
Right now, there's a LOT of promotion out there about 6-figure pay days.  MOST of them are teaching you how to have your  own event and make 6 figures off of it.
Speakers, coaches, consultants and other "everyday experts" come to me about this asking,
"Can this be done?"
Umm… Of course it can be done.  And by YOU.  But there are a few things these people AREN'T telling you, that are — literally — CRITICAL to you being PROFITABLE in the "expert" industry… The first is related MOSTLY to having your own events.  The second is relevant to ALL expert income streams… and all other income streams as well!
Before I dive right in, I want to thank you for your questions.  I deeply appreciate my "positioning" as your B.S. meter.  I don't take this position lightly and will always give it to you straight!  So… 2 things you need to know:
1) If you're thinking of  having a conference of your own, You'd BETTER make at least six-figures off of it.
Why?  If not, you'll be in the hole! The reason is simple:  Events — large ones — are SUPER expensive to pull off! The people selling you into events that TEACH you how to put on events of your own aren't sharing some of the gory details! For one, they fill their events through joint ventures. This means, they make anywhere from 40% – 60% off of each seat sold.  Nothing wrong with that, of course,but  it does cut into that "6 figure payday" pretty extensively.
So, let's say they gross $100,000…. Technically, they're still telling the truth,  But they give away $50K in JV / affiliate fees. Well, these affiliates don't have to pay for hotel minimums, food, insurance, etc.  That comes out of the promoters $50K pocket. Nor did these affiliates pay for the hard work planning the event, promoting the event, getting the website up and running and perfect. NOR are these affiliates responsible for any refunds, if you offer them. That's all out of the promoters $50K pocket.  Now — after MOST expenses — we're widdling that $50K down to (if you've chosen your hotel / conference center well) about $30K — which sounds GREAT for a 2 -3 day weekend conference.  Right?  Who wouldn't want to make $30K in 2 days? 
Um… anyone who's ever been responsible for pulling off a large scale event, that's who.  Because we know better.  Those of us who have done this KNOW how much time and effort it takes to plan (and fill… mainly fill) these large events… our effort and that of the team we pay to support us. To walk away from ALL OF THAT COLLECTIVE effort with $30K would leave most of us in tears.
But, here's the worst part of it. Most people who've secretly approached me regarding "failed" events have LOST money.  Anywhere from $3500 – $26K in LOST MONEY.  So, they did all of the work… they put on the event they wanted… but they ended up WAY in the hole.
Now, I teach my "everyday expert" clients to make a minimum of 6 figures off of what they know, but it's not the flashy, put-my-name-in-lights-beside-a-full-size-picture-of-me type of events.  We do it differently.  And that difference shows up in our bank accounts!
MOving on to point 2….
2) What you do EVERY DAY is more important that "THE BIG DAY."
John Wooden encouraged people to make each day their masterpiece.  He was known for making each practice as important as the championship game.  His players approached each PRACTICE like it was the BIG DAY.  There's genius in this. 
Recently, I stepped on a scale. You DO know how much you mean to me when I start a new paragraph that open and raw, right? And you know what? I'd GAINED 8 pounds. GAINED 8 pounds.  Sure, I'd had a couple bad days in the past 6 weeks or so… but it wasn't those "bad days" that produced my gain.  It was the more regular "bite of this," "bite of that" that led me to where I am now.  It was those BITES.  It was the small stuff.  It was what I convinced myself was insignificant! Well, it all added up.
The same is true in our business. Often when we're pursuing the BIG PAY DAY, we lose focus on Today.  I see this all the time. And, of course, I've been guilty of it myself.
When we're focusing on the BIG PAY DAY, we LOSE focus on the most profitable day we will EVER have a chance to cash in on — TODAY.
John Wooden got it right.  EVERY DAY Should be your masterpiece.  EVEN what goes on behind the scenes should be done with the energy and performance level of the BIG DAY.
Regardless of what you do or what you sell, remember that whatever money you want to make, TODAY is the only day made available to you… so maximize it. As for those BIG PAY DAYS…. I've had them. I like them.  And I teach others how to create them.  But, don't be fooled.  There are a lot of EVERYDAYS that lead up to them.
 MORE to come… and if you'd like an invitation to my upcoming **completely free** event for speakers and coaches, email me at michelle@bmichellepippin.com so I can put you on the list and get you all of the details! =)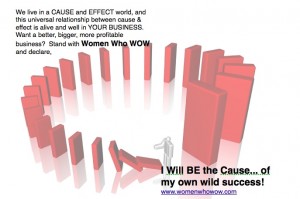 Today, and most days, I'm hit with a dozen emails from people who want "help" in their business.  Many of their emails allude to the same thing I work with some — not all — but some, of my clients to overcome.
I call it The Happy Accident Syndrome.
This is when business is slow — most of the time.  YET, every once in a while — although WAY TOO INFREQUENTLY — you get a great client. Of course, you're not sure what brought them to you.  And you're not sure how to make it happen again.
And — IF this is you — you're CONVINCED your business is "so unique" that the regular rules like EVERY ACTION HAS AN EQUAL AND OPPOSITE REACTION don't apply.  In fact, even the standard universal relationship between CAUSE & EFFECT doesn't apply.  Not to you, oh special specialized one. =)  lol… And so you persist in this Happy Accident Syndrome.
Now, I have a wide range of clients. Christian, Jew and Gentile. Male and female. Gay and straight. Out of the closet and in. Single, married and divorced.  I love them all.
BUT, there is one belief we MUST SHARE if you are to be one of my ROCK STAR clients…  There's one thing I need you to confess before God and Man if you are to see BEYOND your potential and into your PROFIT, and here it is:
There IS a powerful and undeniable relationship between CAUSE and EFFECT.
And, to take it a step further, you must be willing to accept your role as the CAUSE.  Both the cause of the effects you're seeing now… AND the cause of the effects you WANT to see in the future.  Anything less will keep you right where you are.
As Steve Chandler once told me, "No one is coming.  It's up to you." I wanted something.  And I had to be willing to drop all of my excuses, grow up and declare that I would CAUSE that thing to happen. If you're with me, I invite you to share the image and/or this blog post.  Print it out.  Tape it on your computer. If your goals are to become a reality, you MUST CAUSE them to become a reality.
Here's to being the CAUSE. 
beCAUSE we can.
and beCAUSE no one is coming.
and beCAUSE — secretly — underneath our own pity parties, we'd RATHER depend on US.
It's amazing to me how much effort is put into making business complicated and scary these days. The truth is, being in business for yourself is as REWARDING as it is HARD.  As FUN as it is FRUSTRATING. But it is NOT complicated.
If you're a speaker, coach or "everyday expert" like me, hang around here over the next week!  I'm going to be revealing in appalling detail how to respond to offers like "PAYING to have access to someone's TRIBE"… selling seats to someone ELSE's event… and more "success strategies" that rob you of BOTH time AND — more importantly — influence.  Ultimately, some of the things you're PITCHED to do " in order to eventually make money" actually prohibit you from doing so.  Stick around. I just might be able to cut years off of your learning curve here.
But, until then… I need to share with you how SIMPLE success can be. Far too often, we feel stretched thin.  DESPERATELY grasping the fleeting vapors of our business DREAM while feeling firmly anchored (and not in a good way) to our reality. HOW do we anchor them to each other??
Use these two tools that are often-discussed but FAR TOO RARELY used consistently:
One Strategic Plan that gives you a guideline for how you'll make these dreams a reality. DO NOT buy into someone else's off the shelf blueprint.  MANY are sold.  BUT, if they are not created JUST FOR YOU, it's like wearing someone else's underwear.  Just don't do it. =) Your plan should start with your goal and work backwards, and it should be broken down into simple steps you can take each day to get closer to where you want to be.
A timeline and a system of accountability.  A goal without a DATE is a daydream.  It's worthless. Put some time parameters on your goals.  This TIME ORIENTATION anchors your dream to your current reality.  And if you're REALLY COMMITTED, find someone to call out your B.S., find you when you "hide" from your goals, and hold you fully accountable to your best. But only if you're REALLY committed…. =)
Until next time, friends… I remain — HOPELESSLY (and RELENTLESSLY) committed to your WILD success!
xoxo,
Michelle
I've never blogged according to Twitter's "Trending Topics," but this seemed fun. And, reading those obscure, random facts about some of the other bloggers in my social media "sphere" was A GREAT way to waste some valuable time.  =) So, in the event that you're procrastinating today… and need some reading material, here goes… #30ThingsAboutMe.
I was moved "up" from Kindergarten to 1st grade about half-way through the year.  My first grade teacher resented me being in her room, and my Mom always regretted it.  But not me.  Not once.
I love coffee in the morning, but am no longer a Starbucks fanatic. (Buying a Keurig for my office helped that little situation.)
My husband's a public school teacher, and our kids go to private school.  (Or — should it read:  My husband's a public school teacher SO our kids go to private school.)
I crave and create simplicity. A good snuggle on the couch can make my day.
I always tell the truth.  Often my truth might be masked with sarcasm or said as a joke.  So, you will shrug it off as a joke.  But I always tell the truth.
NOTHING makes me more content than hearing all three of my kids working together on something when they have no idea I'm listening. 
I delivered (2 of) my kids in a hot tub. Wouldn't have it any other way.
My husband (still) rocks my world.  We're polar opposites in most ways, but completely united in all the things that count.
I don't use anti-biotics or vaccines. (See www.yourholisticguru.com)
But, I keep dancing with plans of botox and a boob job.  I'll keep you posted. I keep chickening out.
I'm a Christian Conservative, but lean Libertarian on issues like fiscal responsibility and marijuana laws.
I'm a member of NORML.  Have you ever considered the harm the war on drugs is doing to inner city and poor neighborhoods? These parents are trying to instill good values in their kids, but there's a dealer on the corner offering a get rich quick scheme… no education, no experience necessary.  Pitiful. I say legalize and tax it.  Rant over.
I'm loyal to a fault.  And am always surprised when others aren't.
I have a VERY small "circle of trust." Small… but they are MIGHTY.
My confidence defines me.  I thank my God and my Mom for this gift.
One night in college, the words of Tracy Chapman found their way through the brain-rattling music and hazy room I was sitting in and changed the course of my life forever. "Leave tonight, or live and die this way." I got up. Walked out.  Never said goodbye, and never looked back.
I'm always amazed at how PRACTICAL the Bible is — for life, for marriage, for friendships, for business, for finances. I need to read it more.
I have one favorite Aunt. Aunt Darlene.   Love her! 
I swore I'd always love a real paper book, but have fallen (MORE) in love with my Amazon Kindle.
I have many secrets, but none that would totally shock you.  (Largely because of #5.)
I'm good at business because my eyes are drawn to what is simple.  I see the most direct route. That's it.
My testimony has been accepted in 19 states as "expert opinion." I have little respect for today's legal system, but find it convenient to keep my ties there.
I used to homeschool my kids and loved it.
My husband would leave me if I decided to homeschool again. =)
My bucket list includes fighting in a real #MMA fight.  Not sure I'll do it, but I think about it all the time! How weird is that?
No matter how close we are, you'll never TRULY know me until you see me at one of my kid's volleyball, football, baseball or softball games.
I have one brother.  Today, he and I have decided to speak to each other using ONLY lines from the movie, The Cowboy Way. 
I have one brother. He has three kids.  I have three kids.  My parents only have FIVE grandkids. That's because he and I raise one kid together. It is unconventional, but we've made it work.  And it's a huge blessing.
I chose my college major by asking what Heather Locklear's character on Melrose Place probably majored in.  How strategic was THAT plan?  =)
I later — before taking the first class — changed my major from communications / marketing to Family & Child Development.  But, later ended up here… in marketing. Go figure.
Persistence is often touted as a key skill for entrepreneurs and small business owners to be born with, or to acquire.
Not making any money?  Persist! Not making enough money? Persist! Not making money consistently? Persist! 
But, here's the truth: only in our very well-meaning ignorance do we shout, "Keep Going!" when chances are good that someone is heading in the completely wrong direction.
Yet…. that's exactly what happens in business! There's something in us that wants to believe that if we JUST PERSIST, we'll "get there." This probably goes back to that business myth that convinces business owners that we won't make money in the first 4 years of business.  The truth is this: if you're not making money in year one, unless you change something, you won't make money in year two.  If you're not making money in year two, unless you change something, you won't make money in year three. And so on.  That's the truth.
And yet, we persist! We know that doing the same things and expecting a different result is the definition of insanity.  But MAYBE — we think  – doing the same things LONG ENOUGH and expecting a different result is the key to our success. (???)   Let me save you the suspense. =) It's not.
If you've yet to hire a coach or mentor for this business thing, let me throw out my BEST and MOST SIMPLE strategies regarding WHAT and HOW MUCH to change.  And, before I go, I'll also lay out the top FOUR things that business owners — who NEVER MOVE FORWARD IN THEIR BUSINESS — have in common.
First, my BEST and MOST SIMPLE strategies regarding WHAT and HOW MUCH to Change in Your Business:
If you relate to the top four things that business owners around you — and detailed in this list below — are doing, STOP.  If 80% or more of businesses FAIL, you've got to look around you and DETERMINE NOT TO FIT IN WITH THEM.  You've got to commit to doing the opposite of what the majority are doing.  In the absence of a coach or mentor, just look around you and take notice of what most people are doing.. and then do the opposite. BEST strategy I ever learned and applied. (Thanks to Earl Nightingale, Dan Kennedy, and Steve Chandler for bringing this concept to light and to life for me.)
If you need to see a MASSIVE change in your bank account, you must MAKE massive changes in your business. Small, incremental tweaks will lead to frustration, discouragement and — ultimately — you staying right where you are.
However, if you're "almost there," and only need small increases in your bank account, don't overhaul what's working. … make small, incremental changes.  This makes common sense, folks. BIG changes demand big changes.  Small changes demand small changes. Business CAN REALLY be this simple!
Start with your messaging. When you're wondering where to start to make these changes, start with your messaging.  Do some research of your competitors.  What do they SAY? How do they PRESENT their "wares" or services?  And how can you STAND OUT?  What you SAY about what you SELL is critically important.
Sales = money in business, so you want to sell MORE.  Give careful consideration to your sales process. WHAT does it look like? Where does it start? Where do people enter your sales funnel and how do you — with the finesse of a seasoned concierge — take them through this sales funnel?  I'm so thankful to Rich Litvin for sharing this video with me below… about how MOST SALES PROCESSES LOOK.  =) It's hilarious, and maybe slightly offensive. But, take a look… if YOU'RE sales process looks like this poor guy… calling, leaving a message, calling back… maybe they forgot to hire you… calling back… and so on — you need to START MAKING CHANGES RIGHT HERE! =)
I hope you enjoyed that. =) I think it's both FUNNY and VERY VERY TRUE!
Okay, back to this blog post.  What do people who continue to persist in their business WITHOUT MAKING ANY MEASURABLE PROGRESS YEAR AFTER YEAR have in common?  I've made my top four list below, based on my work with business owners for the past 8 or 9 years… For business owners achieving FAR BELOW their actual potential, 99% of them will share at least 3 of these 4 indicators:
1) They've had many, many, many business "reinventions" over the years.  Different business names, new brands, different websites, even "re-naming" themselves several times with cutesy titles, etc. I can't IMAGINE the amount of money and time these guys are spending on website re-design, new head shots, new logos, etc. Although… they also have #2 in common — so maybe not so much! =)
2) They all rely on "barters" and "trades" to get work done on their business. Please take a moment to hear the irony behind what I'm saying.  They are RELYING on business, branding, copywriting, packaging and what-have-you gurus WHO ARE WILLING TO WORK FOR FREE to make changes to their business that THEY HOPE WILL MAKE THEM SOME MONEY. Ironic. If they are working for free, how do they know what to do to YOUR BUSINESS to help you work for money?  Gotta move on…
3)  They all talk about not having the money to hire a business consultant, but ALL of them eventually do.  Most times, they hire the "MOST FAMOUS" person in their niche that they can afford and  are shocked when their package isn't a good fit and has little to no personal touch or follow up.  They feel broke and bummed.
4) They all have a HIGH EGO NEED attached to their business… often very hesitant to look their numbers in the face for fear they'll realize that they have been building a house of cards. They are NOT building a house of cards, actually.  Most of them are quite good at what they do.  But they focus FIRST on maintaining their "successful image" and focus (as a distant SECOND) on actually creating the reality behind that image.  HIGH EGO is what leads us to accept all sorts of things IN LEU of payment:  att-a-girls, "fame," association with the right people, adoration, martyrdom, etc. When you work for payments other than CASH, you'll find yourself in the same boat as these business owners whose income is FAR BELOW their potential.
I give you all of this today as a gift…. not from a pompous place of judgement… but from a place of "I've been there!"  I've been in many of these four situations. When I broke out of them, so too did my income.  The same will be true for you!