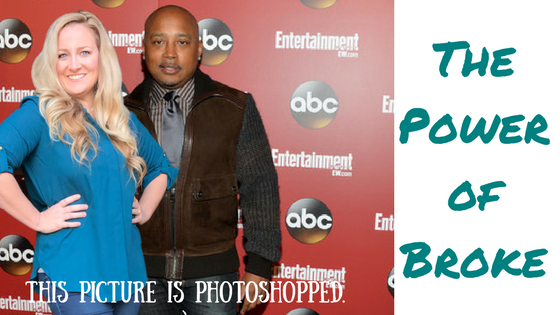 Daymond John recently came out with a book that's on my list to read for 2017.  I haven't read The Power of Broke yet, but I've skimmed it.  Even the subtitle is powerful and true:  "How Empty Pockets, a Tight Budget and a Hunger for Success Can Become Your Greatest Competitive Advantage."
That was certainly my experience…. beginning my first business with an investment of $50 and $213 in the bank.  No back up plan.  No family money.  No money for a baby sitter so I could have regular work hours.  No experience.  No business coach.  No business book.  No work at home blogger to follow.   No Chamber membership.  No yellow pages ad.   No social media.  (We used fax back then.)
Armed with 100 names and addresses of people that knew me, my parents or Chris' parents,   I borrowed the use of a printer, spend $32 on a roll of stamps and sent out a very short, very rudimentary sales letter.
This was my competitive advantage:
Empty Pockets.
A Tight Budget.
And a Hunger for Success.
Broke.
Power bill due in about 17 days.
Mortgage due in about 25 days.
My financial back was against the wall.
And I will NEVER forget that feeling.
I would either succeed and replace my income "working from home," or I would… I honestly don't know. I'd already quit my job.  I had no employment prospects.  And putting my little girl in daycare? For a JOB?  Nah… I'd figure it out.
Somehow.
Now, if I had a high-earning husband or a trust fund somewhere, I may have floundered a bit.  I may have entertained myself with branding questionnaires or logo design.  I may have agonized over JUST THE RIGHT sales letter.  If I WASN'T broke, I may have taken the time to build out a sales funnel or at least created a few "packages" for the service I was offering.
But I was broke.  And the POWER that came with that compelled me into action.  ACTION despite not knowing how to do it.  ACTION regardless of how it might look.  ACTION even though I was afraid it wouldn't work.
Due to the POWER of BROKE,
I showed up every day,
worked like I needed the money and
learned to SELL.
Many Women Who WOW members compliment me because I can so clearly see their quickest route to profit.  This is all because I started broke.
When you have no wiggle room in your budget and NO time to waste, it's easy to see why so many businesses failed…. many, because they are over-funded.  THERE IS SO MUCH WASTED TIME, EFFORT AND MONEY.
Now, I work with women who aren't broke…. or who are no longer broke… some who have NEVER been broke.   But they are still HUNGRY.
They have something to prove. 
To themselves, maybe. 
To an ex-husband, sometimes. 
Even — at over 50 — to their parents.
Or to their children. 
The Power of Broke, this inner HUNGER for Success, is critical.  It will have you taking that extra shot just before the buzzer sounds.  It will pull you way outside of your comfort zone.  It will keep you going and fired up even when you're tired or overwhelmed.  And Daymond John is right… it can be your GREATEST competitive advantage.
If you have a Power of Broke story, would like to share what DRIVES you, what keeps you HUNGRY, comment below and tell the world!  I'd love to hear it.