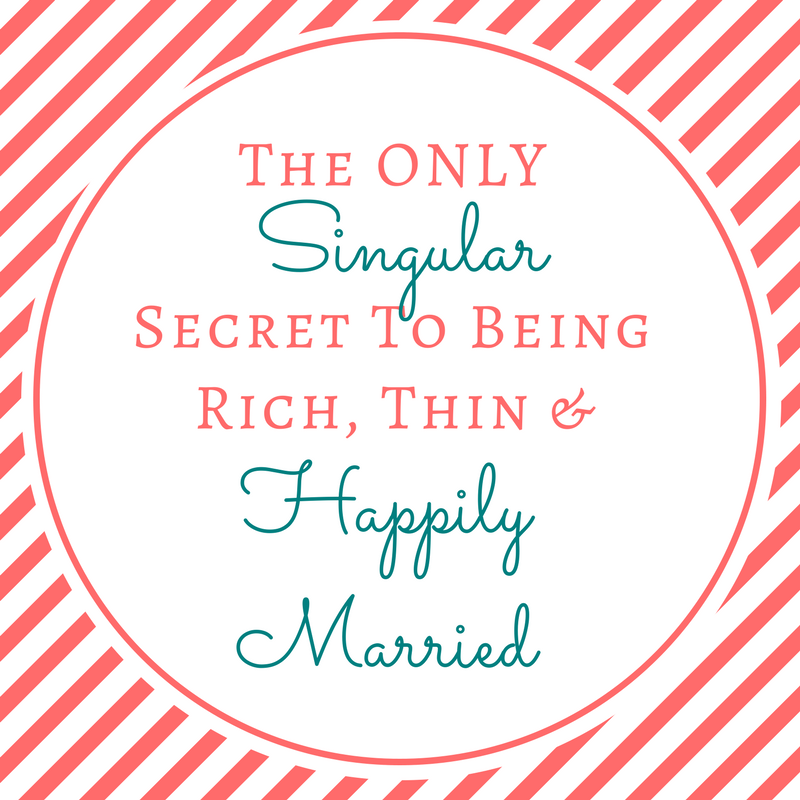 THE ONLY — SINGULAR — SECRET TO BEING RICH, THIN AND HAPPILY MARRIED…. FOR women entrepreneurs.
Recently, I shared that I was HEARTBROKEN… furious over how my husband was acting towards something that was SO important to me. As is "routine" for me, I quickly regretted what I (only after-the-fact) considered public over-sharing.
RUH ROH…
Now everyone knows my marriage isn't perfect.
(As if there's any such thing, right?)
But, all sarcasm aside,
part of MY purpose here as a business leader…
is to show that WILD success is possible WITHOUT sacrificing the relationships that mean the most to you….
possible WITHOUT staying in the serial-relationship-mayhem I see in SO MANY business leaders who are still searching for "that perfect person" who will make a relationship conflict-free and full of fairy dust.
I know that PART of my purpose here is to LIVE as a business leader who is ALSO an engaged wife and mother and friend and family member…
At first, I set out to show/prove these things to MYSELF.
(Of course.)
I had a major "success block" that still rears its ugly head in my brain… This success block is all about the idea that success would "cost me," and perhaps cost me MORE than I'd ever be willing to pay.
It took me a long while to realize that I was at the helm of whatever success I created…. that I could DELIBERATELY design my success any way I chose to…. that I could set the rules any way I like… and that I could FUEL my success ONLY with those things that I CHEERFULLY want to give to my business:
My heart.
My message.
My passion.
My commitment.
My twisted little view of business and life and marriage and success…. =)
I was set FREE when I realized that I could give my business these things and NO MORE… and have a business that continues to far exceed my expectations… THAT I COULD DESIGN MY BUSINESS ACCORDING TO MY SPECIFIC PREFERENCES AND THRIVE.
I tell people this all the time.
On podcasts.
On virtual summits.
On the stage.
Via my Facebook LIVES.
On our blog.
I shout it from the rooftops. IN ORDER TO HAVE A THRIVING BUSINESS, YOU CAN (AND SHOULD) DESIGN YOUR BUSINESS ACCORDING TO YOUR SPECIFIC PREFERENCES.
BUT… Let me tell you where I lose people:
The ONLY secret to this reality.
the ONLY SINGULAR secret to being rich, thin and happily married is…
a daily — LIFETIME — commitment.
That's it.
Because EVERY relationship requires nurturing.
Daily.
The relationship with your spouse or your kids.
Obviously…
But what about these?
The relationship with your BODY.
The relationship with MONEY.
The relationship with God.
The relationship with your MARKET.
These are ALL relationships that ebb and flow… based on what YOU put INTO them.
A marriage that isn't NURTURED daily will soon end in YOU (and he) not feeling nurtured by the relationship. (Funny how that happens, right?)
A relationship with your body that is ignored… not nurtured with great food, daily movement, etc…. will end in you feeling betrayed by your body. It won't look or perform the way you know it SHOULD.
A healthy relationship with MONEY that isn't cultivated ends in you always battling with money stuff… which is why those who win the lottery don't keep the money they won. The RELATIONSHIP isn't there, it hasn't been nurtured daily.
A thriving relationship with Jesus isn't an ONE TIME salvation prayer. That's just fire insurance. A relationship requires time, nurturing and attention.
The same goes for your MARKET. Nurture them. Pour into them… DAILY… or constantly feel like they're not responsive, cheap, or whatever.
Anything important requires DAILY attention.
Daily Nurturing.
Want to be rich, thin and happily married?
Focus on EACH of these areas daily.
FOR LIFE.
Because relationships — like businesses — don't ever "arrive" and never need anything again. Build your finances, your health, and your most important relationships EVERY single day.
P.S. The 2017 Women Who WOW Working Pajama Party WILL be the last of it's kind… due to how fast we are growing. We have about 8 spots left and if you'd like details, PM me. This is our most anticipated, most intimate event of the year.
Want to keep up with all my posts and content? Head over to my Facebook page!